It's almost impossible to find a player whose coaches say more nice things about them than the Naomi Girma, the 22-year-old whose rapid rise has led to major roles along the backline with the San Diego Wave and the USWNT.
Her coaches every step of the way seemingly can't help themselves.
"When she steps on the field, everyone wants to play a little harder and be a little sharper because they care so much about her."
That's Paul Ratcliffe, who coached Girma in college at Stanford.
"She's a very mature player in her approach. Her game understanding is excellent, so that's a credit to her and her hard work."
That's Casey Stoney, who coaches Girma in the NWSL with the San Diego Wave.
"There's a reason she's starting on our team, and that's because she is growing into a great player."
That's Vlatko Andonovski, who coaches Girma on the world's stage with the U.S. women's national team.
In a career that's taken her from college to the club game to the international stage, Girma has excelled during her progression from one level to the next. In 2022, she was drafted first overall by San Diego and made her NWSL debut in the Wave's record-breaking expansion season. The center back excelled in the middle of Stoney's backline and won the rookie of the year and defender of the year awards. Girma also made her USWNT debut last year and has proceeded to anchor the U.S.'s backline for stretches during the CONCACAF W Championship, in three of their four big European friendlies to close out 2022, and in the first of two friendlies this week against New Zealand, the second of which takes place this evening U.S. time. 
In less than a year, Girma has staked her claim as one of the best defenders in the world. And with a World Cup coming up this summer, she figures to be an indispensable member of the U.S.'s starting.
Let's look at what makes Girma such a special center back — and why her coaches love her so much.
Skill on the ball
It was a great goal. A phenomenal goal, really. Sophia Smith received the ball on the right wing, touched it over a defender, broke into the box, and finished with the outside of her right foot. Thanks to that goal, the U.S. took an early lead over Jamaica in last summer's CONCACAF W Championship.
That goal doesn't happen, though, without Girma's skill on the ball. Playing as a left-sided center back in a back four, Girma turned toward the right side of the field, opened up, and sprayed a lovely bending ball down the wing for Smith. The pass had just the right weight and was placed in just the right spot to allow Smith to meet it at a full sprint before, well, Sophia Smith-ing her way through the Jamaican defense.
When you watch Girma, the first thing that stands out is her ability on the ball in possession, which enables her to set up plays just like that. 
Her passing game was also excellent in the NWSL last year. According to FBref, Girma finished in the 88th percentile in progressive passes per 90 minutes among center backs in the league. She was also comfortable stringing passes together higher up the field, finishing in the 96th percentile in passes into the box per 90 among that same group of players. Now, there's still room for Girma to improve her distribution, especially with her non-dominant left foot. But make no mistake: She's an asset in possession.
Just look at this pass from the United States' 2-1 win over Germany in November. 
Girma moves into space, sees the pressure coming from Germany's Alexandra Popp, and spots Rose Lavelle's inside-out run on the right. Girma almost takes on the role of an American football-style quarterback here, hitting her receiver on a flag route. Although Lavelle's first touch takes her even closer to the sideline, allowing Germany to put the ball out for a throw, it's another nicely weighted pass from Girma.
A strong passing range and an understanding of her teammates' movement isn't the only thing that makes Girma special in possession. She's also dangerous driving forward on the dribble. 
Per FBref, the U.S. international finished in the 78th percentile in dribbles completed and in the 74th percentile for successful dribble percentage among NWSL center backs last year. 
With her athleticism and technique, Girma can glide right past opponents on the ball, something displayed brilliantly in this clip. After helping track down Bunny Shaw, Girma glides forward into the midfield, dancing around an opponent on her way before connecting a pass to Mallory Swanson. 
Naomi Girma makes this game look so easy – she just has so much skill on the ball and so much mobility in the back.

2023 is going to be a big year for her and the USWNT. pic.twitter.com/l04Juh3FUn

— Joseph Lowery (@joeclowery) January 12, 2023
Girma solves complex problems on the fly in possession, making difficult plays look easy.
Defensive range
Girma solves problems on the fly defensively, too.
Whether she's playing on the right or left side of central defensive pair, Girma reads the game and knows almost exactly where to position herself at any given time, making it difficult for opposing attackers to find any real space.
According to American Soccer Analysis' goals added metric, Girma led the NWSL in "interrupting" value on a per 96 minute basis. No other player with at least 1,000 regular season minutes added more value with the mix of defensive actions included in that category: tackles, interceptions, blocks, clearances, recoveries, and contested headers.
As if that's not enough, per FBref Girma was in the 96th percentile for ball recoveries and the 92nd percentile for fewest times dribbled past per 90 among center backs in the NWSL last year.
She's everywhere. 
In that same win over Germany in November, Girma caused real problems for her opponents with her disciplined, effective defending. Just look at this sequence from the 12th minute.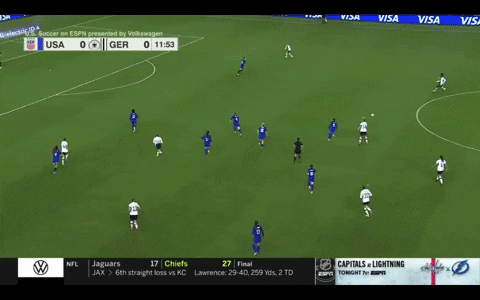 Germany, who have the ball in the U.S.'s half, slip a pass into the box. Even before that pass is played, Girma checks her shoulders and spots Sophia Kleinherne, Germany's left back, moving inside to get behind the USWNT's backline – exactly the type of run that so often results in at least a good look on goal with less-aware defending. Girma shows good speed to stick with Kleinherne, staying between her and the passer, before muscling her off the ball and directing a clearance towards Emily Fox.
Just like that, the U.S. is out of danger.
With her speed, strength, and "game understanding", as Stoney called it, Girma is such a difference-maker for her team even without the ball.
Perfect fit at the perfect time for the U.S.
Like it or not, things are changing for the USWNT. 
One generation is fading and another is rising up to take their place. Becky Sauerbrunn, for example, almost certainly be with the U.S. at this year's World Cup, but at 37 she's not the same player we saw in a U.S. jersey even four years ago at the 2019 World Cup. Sauerbrunn provides unparalleled leadership, vision, and positioning, but she struggles to defend in space at this point in her career.
🚫 @CaseyMurph 🚫 pic.twitter.com/1kwYmoWwb7

— U.S. Women's National Soccer Team (@USWNT) July 4, 2022
And that's okay. Or at least it's more okay because of Girma's presence in the backline.
When she's partnering Sauerbrunn, Girma sweeps up plays behind the defense and covers for her teammate in the same way Sauerbrunn used to cover for her own teammates throughout the last decade. When Girma starts next to Alana Cook, she provides necessary composure on and off the ball.
When the U.S. dominates the ball against lesser teams, Girma helps thread passes through the defense and drive forward into midfield. When the U.S. is up against elite attacking players in games against the world's best, she helps cover ground and shut them down.
Whatever the opponent and whatever the stage, Girma's well-rounded game makes her an ideal option in the back. This summer's World Cup will be a big test, but Girma has yet to find a stage that's too big for her in her nascent professional career. 
No wonder her coaches love her so much.
(Photo: Brad Smith/ISI Photos/Getty Images)


Read the full article here