Of all the players with the most unusual and enjoyable pre and post playing careers, this cult hero may just be it. 
Footballers often have a streamlined path back into football, either on the touchline, behind a microphone or on camera. 
It is rare, almost unheard of, that one would stand in front of the masses seated in pews rather than plush lounges in a pub.
A former Premier League football from the early 2000s is now spreading the Word not the ball
Taribo West – who is an iconic figure across several football-mad continents – has traded in adulation from the common folk to enlighten them on the gospel, spreading joy through the Word rather than a win. 
Once Thierry Henry's most unlikable opponent, is ensuring his next life – and perhaps the one after – is a little less stressful. 
'I will go with, direct opponent. I will go back in the days; Taribo West,' Henry said on CBS during their Champions League coverage. 'He was following you everywhere, even in the dressing room.'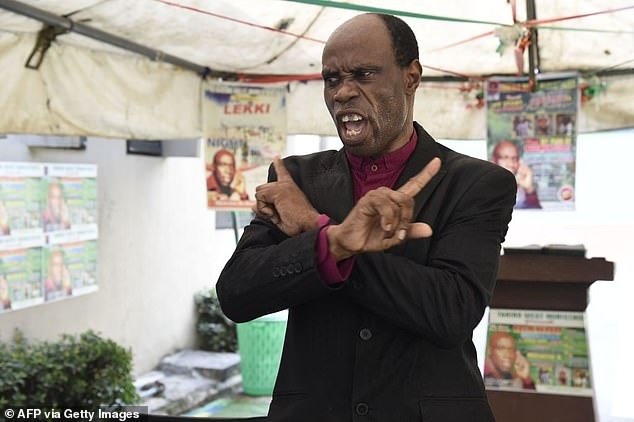 Instead of stifling attacks, he is doing his best to stop sin, in his new role as a Catholic pastor
Now West, the iconic character of Auxerre, both Milan clubs, Derby County and Plymouth Argyle fame, follows the Gospel. 
He arrived in Serie A in 1997 and wore black and blue braids made especially for Inter. An incredibly strong defender with a vivacious personality, he never was the star man at Inter but played regularly. 
While West's technical ability left a little to be desired,  he possessed immense speed and physical strength. As a result, he lost few physical duels.
Inter fans were in love with his physical strength and at the San Siro stadium the were chants for him went: 'Eat them all, Taribo eat them all.' 
West played 44 games games for Inter and scored one goal before continuing his professional and spiritual pilgrimage around the world.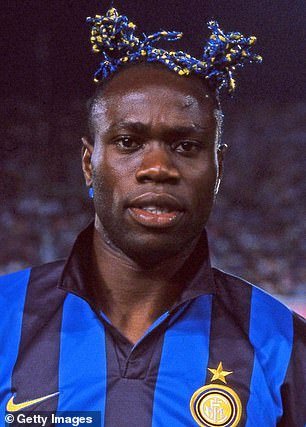 Taribo West has undergone a transformation – both in looks and career – during recent years
Today, West is a Catholic pastor who undeniably lives by his religious beliefs. 
As a child Taribo helped his mother sell akara, or fried dough made from ground cowpeas, in Port Harcourt and was in charge of going fishing and bringing dinner for the whole family. 
Over time, religion became his pleasant form of escape from the world of football. And, since retirement, he has become a fully-fledged pastor – a self-proclaimed Ravallian Pentecostal ecumenical pastor. 
In the suburbs of Milan he founded the Shelter in the Storm Church. He is also founder of the Taribo West Charity Foundation to help Nigerian children in need and had a football school with George Weah. 
West was known for his crazy hair as much as he was for his pure strength & power on the pitch
West is also well known to a fans of the video game classic Championship Manager 2001-02. As a free agent at the start of the game, he is well known to be one of the bargain free transfers to snap up straight away of the management simulation game.
It can be safely said that West's greatest passion was not football, but religion, and that today, his life is wholly satisfied thanks to his devotion to God.
Though it wasn't always so peaceful. Christian 'Bobo' Vieri has repeatedly recounted the historic quarrel that took place between West and then-Inter boss Marcello Lippi. The story has been previously confirmed by the former Juventus coach himself. 
Thierry Henry (above) has reflected on West being one of the toughest opponents he'd faced
West challenged with some of the Premier League's best at Derby, including Mark Viduka
During a meeting, West dressed as a priest and told Lippi that the Lord's will was to see him start in Inter's central defence. 
Lippi allegedly replied with a lot of sarcasm, accompanied by his usual cigar between his fingers: 'It's a real shame, God never told me.'
It seems West might now have had greater luck finding many to listen in his second profession.
West also had to square up against Alan Shearer while on European duty for Partizan Belgrade
Read the full article here