We're less than midway through the 2022-23 European league season — thanks to the unusual timing of World Cup 2022 — but it seems likely we've seen the most memorable team performance of the campaign.
On Friday night, top-of-the-table Napoli hosted a resurgent Juventus. Max Allegri's side were sitting in eighth place in mid-October, but Allegri's decision to switch to a 3-5-2 prompted a remarkable resurgence, bringing them eight wins and eight clean sheets in a row. They were just seven points behind Napoli, and a victory would have cut that advantage to four points.
But after an astonishingly dominant Napoli performance, it feels almost unthinkable we even considered Juventus part of the title race at all. They were utterly outclassed in every department, as Napoli ran out 5-1 winners. That 3-5-2 formation, an obvious reason for Juventus' good run, suddenly became a serious weakness as Napoli managed to find space all over the pitch.
There were essentially three main themes in this match. First, Luciano Spalletti's side switched play effectively, taking advantage of Juve's narrow shape. Second, they quickly played balls into the channels for Victor Osimhen to chase, and Juventus couldn't cope with his runs — partly, perhaps, as wide centre-backs Danilo and Alex Sandro are converted attacking full-backs. Third, Juve's complete lack of compactness allowed Napoli time in midfield.
Here's an early example of that first theme. Khvicha Kvaratskhelia receives the ball wide on the left, is closed down by Federico Chiesa and Weston McKennie, and so rather than trying to dribble past both, switches the play to the far side, where Giovanni Di Lorenzo is completely open, and about to push forward towards his team-mate Matteo Politano.
Already, in the early stages, Juventus' lack of compactness is becoming clear. Angel Di Maria and Arkadiusz Milik played as the front two, and half-pressed, but they were regularly detached from the midfield. Napoli's holding midfielder Stanislav Lobotka often dropped into defence to allow them to play forward more easily, and then pushed on again to find himself in space between Juve's lines.
Here's another example of Napoli switching the play around Juve's narrow block, and out to an unmarked forward. Mario Rui knocks the ball into the channel for Osimhen and while this came to nothing, it showed Napoli's intent.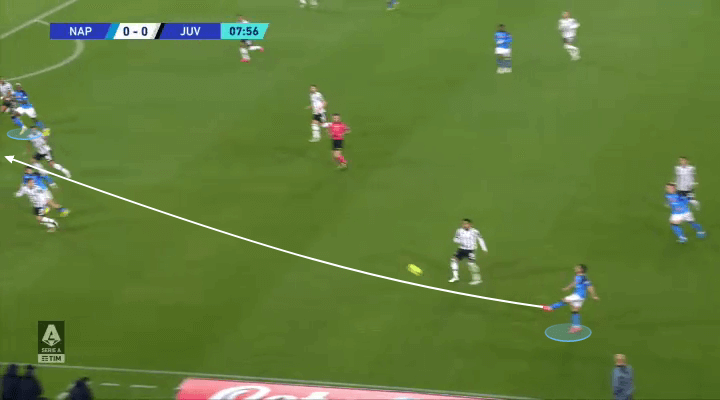 Five minutes later, a similar incident. This time it's centre-back Kim Min-jae on the ball, and his floated pass over the top of the Juventus defence nearly drops for Osimhen, but the bounce evades him.
And here's yet another example — Rui on the ball, launching it into the channel, and Osimhen always getting there first.
Then came the first goal, 14 minutes in. This initial situation is interesting because it demonstrates the problems with Juve's shape. Not only are the attackers nowhere to be seen, with Napoli having so much time to work the ball across their midfield under little pressure, the midfield is alarmingly narrow, occupying about five yards across. Kvaratskhelia drifts inside and Napoli prepare to work the ball over to Di Lorenzo…
But, as they work the ball through central midfielder Piotr Zielinski, Juventus' midfield is so disorganised that, seemingly with Adrien Rabiot's encouragement, it is left-sided centre-back Sandro who pushed out to close down Zielinski. Right-winger Politano takes this as his cue to push inside into the space vacated by Sandro, and then receives the forward pass from Di Lorenzo.
Politano then crosses first time for Kvaratskhelia's overhead kick, which Wojciech Szczesny saves, but Osimhen is free to nod in the rebound.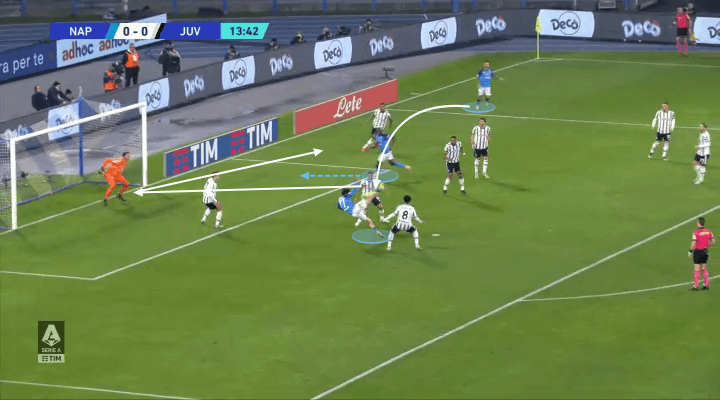 That was fairly typical of Napoli's approach. Here's a similar move down the opposite flank. As Lobokota switches play over to Kvaratskhelia, note that Chiesa realises he needs to sprint out towards the flank…
…but that's not really enough, as Rui is pushing forward on the overlap to create an overload. Right-sided centre-back Danilo holds his ground, and is calling for McKennie to push across and close down. He's never going to get there in time…
…and Rui is free to cross to the far post, over the head of Politano. In fairness, Juve's complete inability to get numbers across to the near side at least means they were well-staffed at the far post.
Juve, 1-0 down, attempted to press more — but this was disjointed and Napoli played through them. Here, Lobotka happily receives a pass from Kim close to his own box, turns past a couple of Juve players, and dribbles to the halfway line.
Then came Napoli's second goal, which felt alarmingly easy and shows the aforementioned three patterns of the game.
First, look at how disjointed Juve are — the forwards on the halfway line, bypassed easily with a ball out to the full-back, and no other Juve player in shot. When the camera pans back, Chiesa is — presumably — asking why on earth Juve aren't backing up the forwards.
Second, Politano receives a forward pass from Di Lorenzo and simply launches the ball into the channel, confident that Osimhen will win it. Against three Juventus defenders, he does. And then, look at the space on the outside of Juventus' defence for Kvaratskhelia, who sweeps the ball home confidently.
The replay angle shows the sheer lunacy of Juventus' defensive shape, with Kvaratskhelia — the danger man — in oceans of space on the outside of Sandro. Chiesa, worried about Juve's lack of pressing, is completely unaware of the danger behind him.
Juventus got one back through Di Maria shortly before half-time, but the second half continued in a similar pattern. Here's another simple ball into the channel for Oshimen to chase, and win, and shoot, and earn a corner.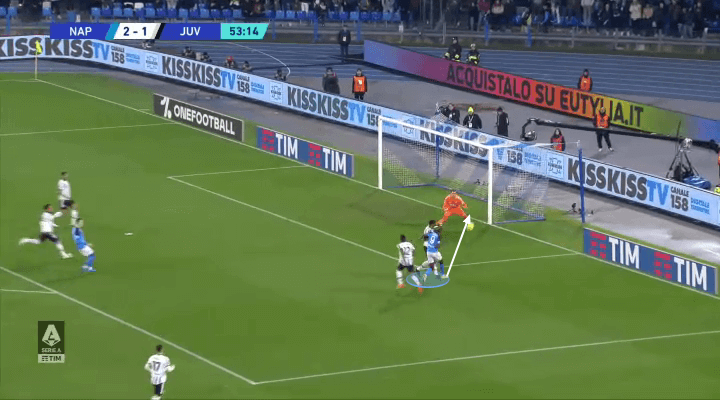 And from that corner, Amir Rrahmani smashed home a loose ball to make it 3-1.
By this point, Juve were shellshocked. Napoli started winning the ball high up and creating chances after forcing turnovers. Here, Kvaratskhelia crosses for Osimhen to head home the fourth.
And the scoring was rounded off in a style typical of Napoli's approach. As Napoli switch the ball to right-back Di Lorenzo, drifting infield into space, you can tell from left-wing-back Filip Kostic's head position that he's worried by right-winger Elif Elmas, on for Politano. But as Di Lorenzo plays the pass, Kostic has got sucked in towards him.
Kostic then has to turn and sprint out to Elmas, and he's running so fast that he goes too far. Elmas checks inside and, via a deflection, makes it 5-1.
Napoli have recorded famous victories over Juventus before, in seasons when they seemed to have the belief to win the title. There was Edinson Cavani's famous hat-trick of headers against Juve in 2011. There was Kalidou Koulibaly's winner in 2018 with four games remaining. Napoli couldn't get over the line in either season.
But this was something else, and now Napoli have a 10-point lead, and have completely halted Juve's momentum. This victory will be talked about for years if Napoli don't win the title, and for decades if they do.
---
The Athletic's Spanish football coverage has expanded…


Read the full article here