The incredibly easy narrative is to look at a No 9 who has missed four big chances in the second half and deduce that he has cost his team a place in the knockout stages.
Factually that point is not wrong, but the reality is it should have never come to this.
Romelu Lukaku had played just 256 minutes in all competitions this season. The most recent of those was a 22-minute substitute appearance in October against Sampdoria and his only start was the opening gameweek of the Serie A season on August 13th — 110 days ago.
There is history with Lukaku bashings too. He was weirdly slated for having a record-low seven touches in Chelsea's win at Crystal Palace last season but created the winning goal.
The reality is that Roberto Martinez has got things drastically wrong.
The expectations for Belgium have been high in recent years, despite them ultimately being a relative minnow in terms of population size and not being home to one of Europe's top leagues.
Yet they finished third at the World Cup four years ago and were quarter-finalists at last summer's European Championships, only knocked out by eventual winners Italy.
Let us break down Lukaku's five shots but first look at the wider picture.
---
Martinez is over-reliant on Lukaku
In the immediate aftermath it was valuable to hear the insight of three former strikers — Gary Lineker, Didier Drogba and Alan Shearer were among the panel of pundits for the UK broadcast on the BBC.
"They've scored one goal from 34 shots in three games. It's not all down to (Lukaku). It's not his fault. Look what happened in other games. Look what happened in the first half, when clearly they weren't good enough to go through," said Shearer.
Martinez moved away from his tried-and-tested 3-box-3 formation to a 4-2-3-1 that had Leandro Trossard as the No 9 and Belgium looked inept in possession.
They had tried this the game before against Morocco, with Michy Batshuayi offering little either in-behind or to feet as the No 9. That formation did not work then either.
Comparing Belgium's group-stage attacking stats from this tournament to four years ago are particularly damning.
In a must-win game against Croatia, Belgium were stagnant, slow and lacked incision in the first half. Their best chances came on the counter-attack because they did not have a No 9 who could pin defenders and play with his back to goal.
Martinez bringing Lukaku on at half-time was an equal mix of optimistic gamble (given his fitness) and an absolute necessity (given his quality). That is not a good place to be.
Two-thirds of Belgium's xG came in the second half, when they had over double the shots compared to the first half (11 versus five) and all four big chances came after half-time.
"They improved when he came on," said Shearer. "At least they had a focal point. At least then they had a focal point where they could start and put balls into the box — they had a little pace either side — and that sort of helped them and helped change them."
And when you see the numbers it makes sense why they rely so heavily on Lukaku. He has scored 51 times in 52 caps under Martinez — more than double the next-best Batshuayi with 24 goals in 42 caps.
He is Belgium's record goalscorer at major tournaments too.
11 – Romelu Lukaku's four goals at EURO 2020 took him to 11 goals at major tournaments, making him the first player to reach double figures for Belgium at the EUROs and World Cup combined. Leader. #BEL #EURO2020 pic.twitter.com/MuHeMbTDMj

— OptaJoe (@OptaJoe) July 13, 2021
Lukaku played just 46 per cent of minutes in World Cup qualifying and was still Belgium's top scorer (five goals). He was third in Europe for minutes per goal (66), only behind Harry Kane and Aleksandar Mitrovic.
Even if you hold the view that he is a fundamental reason for Belgium exiting at the group stage then it must be considered that he is a key reason they got there in the first place.
Time to analyse those five shots.
---
First shot — 47 minutes
"What I would say in that situation is you know how it's like when you're match-fit. If you've not played any football it's really difficult to get in the rhythm of the game," said Shearer when analysing Lukaku's chances.
Having his first shot just two minutes after coming on would not have been ideal, but instantly we see Lukaku's game — pinning defenders, using his physicality to benefit his team-mates and creating chances where he can then use his technique.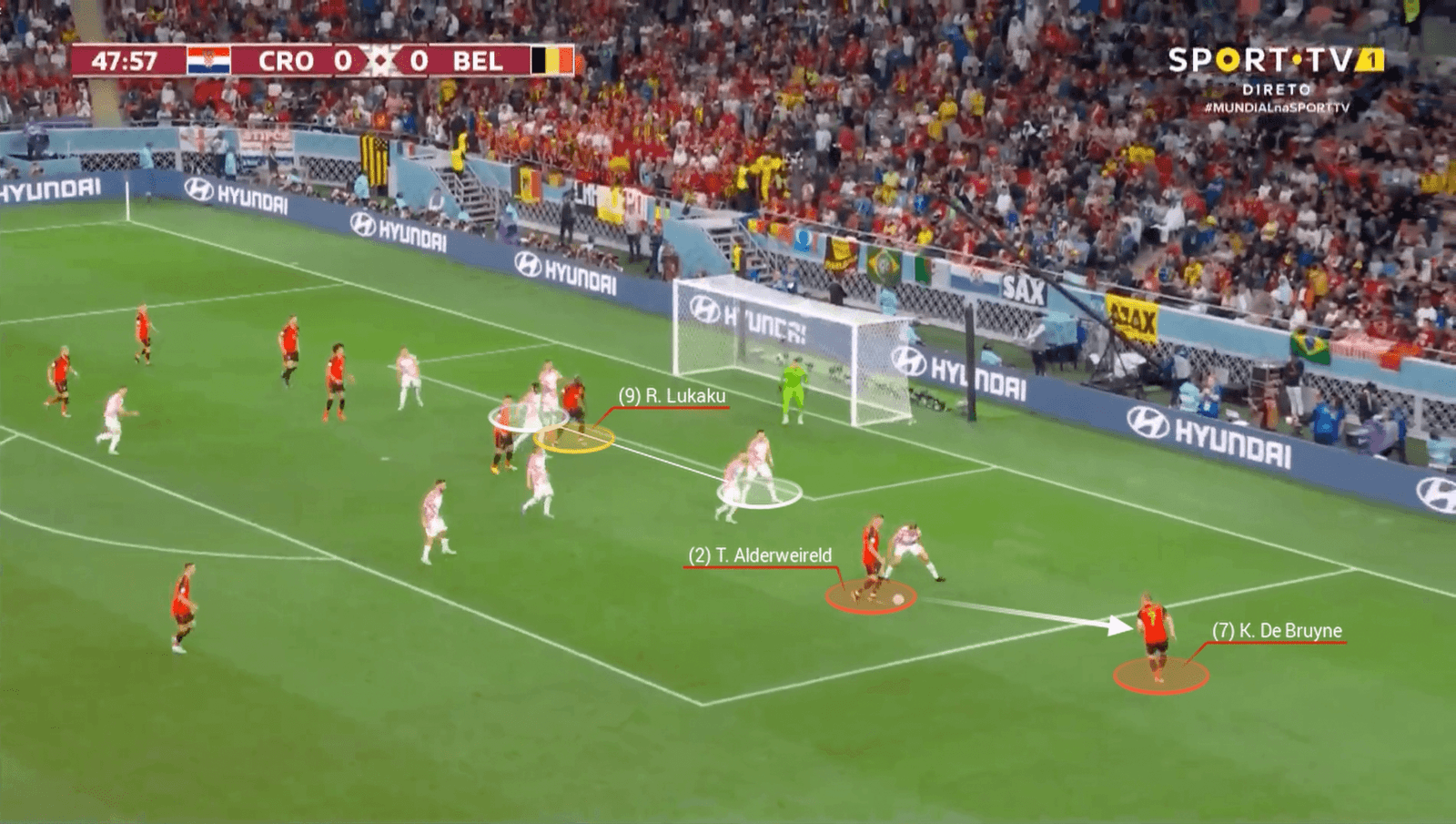 He grapples well and then rises highest to get the first contact on a Kevin De Bruyne cross at the back post…
… but the delivery is overhit, he's slightly leaning back and cannot get any real power on the ball. Lukaku does well to ensure it goes on target.
---
Second shot — 59 minutes
Working backwards from this shot, Lukaku has a fundamental involvement in terms of his positioning (yellow dot).
He starts in an offside position to stretch the defence, as Belgium made chances and finally reverted to the 3-box-3 in build-up…
… and by pinning the back four it makes space for De Bruyne to receive between the lines…
… and then he has space to pick out the advancing Yannick Carrasco. Without Lukaku, Belgium would have not been able to play through Croatia like that.
Arguably Carrasco should do better with the one-versus-one against the goalkeeper, but any striker would want a rebound like this.
"I think it's difficult because you have the defender in front of you," was Drogba's analysis. "There's the goalkeeper. This is his right foot. His body is toward the goal. And the way his body is, it is very difficult for him to turn, twist and score that. I think it is difficult for him to score."
Josko Gvardiol, who stood out for his box defending, is covering and, with the positioning of goalkeeper Dominik Livakovic, he only really has the right side of the goal to aim at.
Fine margins and the ball drops on Lukaku's non-dominant right foot. He hits the inside of the post.
---
Third shot — 62 minutes
A caveat here is that the ball goes out of play so even if he had scored the goal would not have stood following VAR analysis.
Again, Lukaku's positioning (yellow dot) on the last line of defence creates space for Thorgan Hazard to receive from Carrasco (white arrow) and play a through ball into the on-running De Bruyne (blue arrow) — he was significantly more involved in attacks once Lukaku entered the fray.
But the pass is slightly overhit and De Bruyne crosses when it is out of play, with Lukaku running on the blindside of Gvardiol…
… the cross baits Livakovic out and takes him out the game, meaning an on-target header would result in a goal.
It is hard to see in real time, but the recovering Dejan Lovren gets a slight flick on the cross and marginally changes the trajectory, which is harder to finish from.
"You need a few more games to find the rhythm," said Drogba. "But there are situations I think where — if they had been a positive team, if the spirit was good — maybe one of these chances will go in."
---
Fourth shot — 86 minutes
Once more the value of Lukaku's positioning and presence can be seen, pinning the centre-back to make space for the dynamic Jeremy Doku to dribble at the defence…
… and again he re-positions to run on the blindside of the defender and attack the cross, but the in-swinging delivery is slightly short and Croatia make first contact…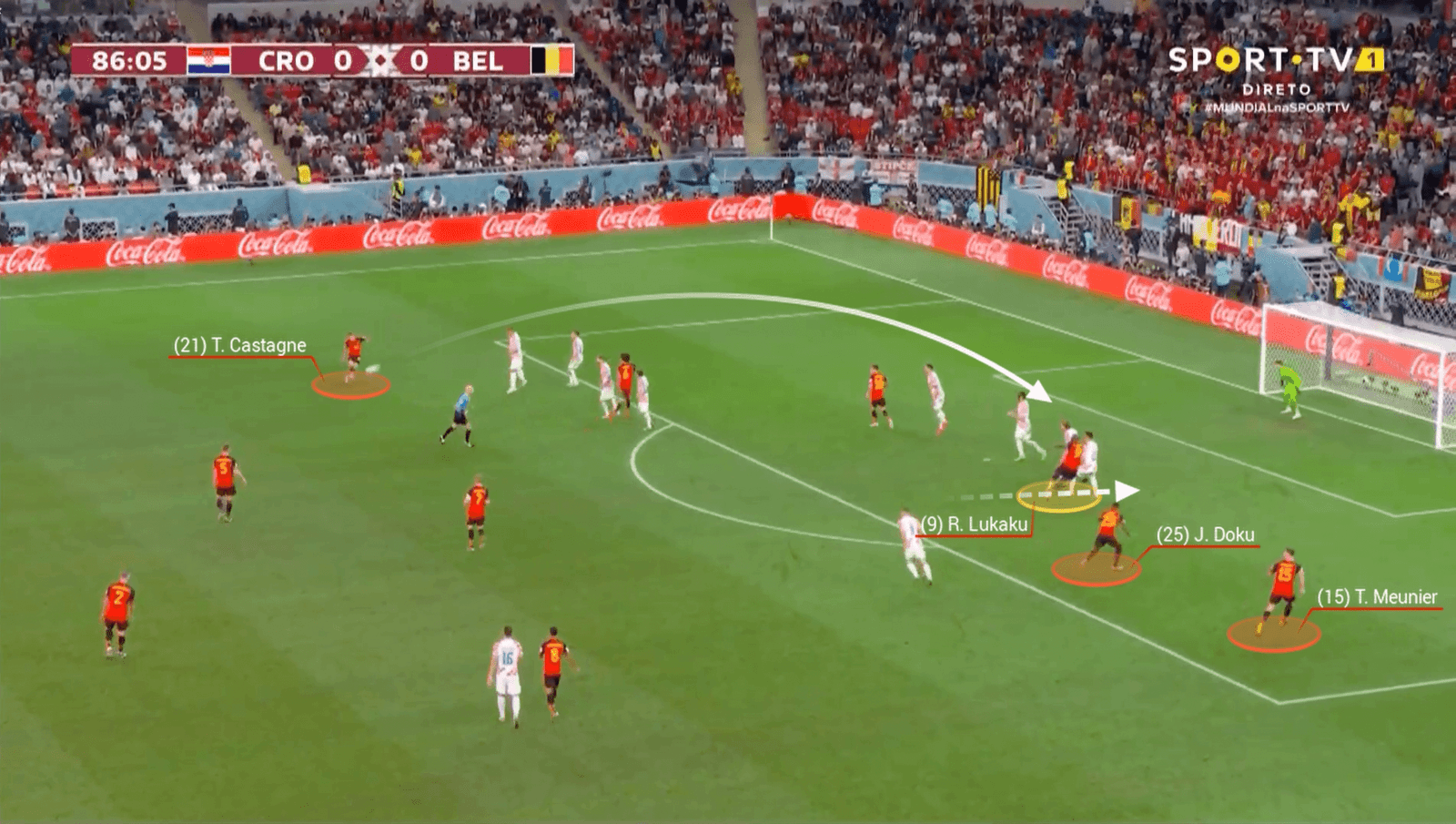 … which drops to right wing-back Thomas Meunier, and he fires the ball across (solid white arrow). Lukaku is not able to sort his feet out in time — for a left-footer the natural finish here is to open the body up and use the instep to guide it in.
The ball more hits him than Lukaku hits the ball and it goes wide (dotted white arrow).
---
Fifth shot — 89 minutes
Undoubtedly the worst miss of the lot, but another chance that does not get created without Lukaku.
Once again he (yellow dot) is pushing the defensive line deeper, allowing Doku to receive with plenty of space ahead of him.
… and when he runs at the right-back, Lukaku is able to prevent Lovren (centre-back) from jumping out and Doku dribbles into this space…
… before playing wide to Hazard…
… Lukaku then attacks the cross at the back post…
… and again Livakovic is taken out by the cross. Any significant contact (white arrow) and he scores, but instinctively his decision to use the chest over the head takes all the pace off the ball (red arrow).
"You have to expect the defender to miss that. You've got to get your body position ready, thinking, hoping that the defender is going to miss that," added Shearer.


Read the full article here