There will not be many new Tottenham Hotspur players in recent years who have both settled in and made as big an impression as quickly as James Maddison has.
Not only has Maddison made a huge impact on the pitch, with goals (two), assists (four), creativity, dribbling from deep, set-piece deliveries and leadership in his role as vice-captain since his summer move from relegated Leicester City, he has also fully embraced the club and its new era off it. He seems to be incredibly popular with his team-mates, head coach Ange Postecoglou and the fans.
Throw in his penchant for winding up the opposition and you have got as close to a bona fide hero in the making as it gets.
While many positive aspects of his game have been apparent to casual watchers of Leicester in recent seasons, like that dynamism in the final third, or those whipped dead-ball deliveries, or his eye for a goal from range, the six league games he has played in a Spurs shirt so far may have surprised those who were not aware of his extensive passing range in particular.
Maddison has displayed a wide variety of passing genres which reflect his versatility in being able to do an effective job in any of the midfield positions (he sat deep for a portion of the win away to Bournemouth, for example; a role he played briefly under Claude Puel during his 2018-19 debut season with Leicester).
He may be the creative No 10 that Spurs have lacked since Christian Eriksen left for Inter Milan nearly four years ago, but he is also so much more than that.
Focusing on his passing in particular, Maddison pretty much does it all: short, medium or long passes, through balls, crosses, flicks, scoops, outside of the boot, dainty, firm, one-touch and left-footed. He is fine with recycling possession in deeper areas but it is the opposition half, aiming towards the final third and the penalty box, where Maddison is one of the standout performers in the Premier League, owing primarily to his vision and his technique.
"I like the fact he finds those pockets of space," his England manager Gareth Southgate said of Maddison earlier this year. "He turns, he plays forward, and not a lot of players play forward in this day and age."
That last quote in particular says so much about why Maddison feels refreshingly different.
The graphic below shows every progressive pass (defined as a pass that takes the ball 25 per cent closer to the centre of the opposition goal) Maddison has made for Tottenham.
It shows he is able to float across the pitch and play those incisive balls into the penalty area — no Premier League player this season has managed more than his 25 from open play — as well as some long diagonals and passes down the line.
The data backs up Southgate's assertion that forward-playing creative types are slightly rare, but Maddison passes the eye test on such passes too; he will often take a glance forward when he knows he is about to receive the ball and he generally plays with his head up.
"The best players in the world assess situations the quickest," Maddison told The Athletic in 2019. "They read it and know what they are going to do well in advance. Lionel Messi is two or three steps ahead of his marker as he receives the ball. Players who are slower working out what is going on around them don't play at the highest level.
"Before you receive the ball — especially if, like me, you receive it between the lines a lot — you've got to know where all the defenders are, what kind of touch to take, whether it's going to take you forwards with one touch or maybe back if the defender's covering. Stuff like that. It all flashes through your head."
After only seven competitive games in Spurs colours, we have already seen many examples of that ability to think one step ahead of the opposition.
Here, against Manchester United, he is about to receive a pass from Cristian Romero and spots Pedro Porro about to make a dart into the final third:
Maddison plays a first-time dink over the United defence, knowing Porro's pace means he will get there first: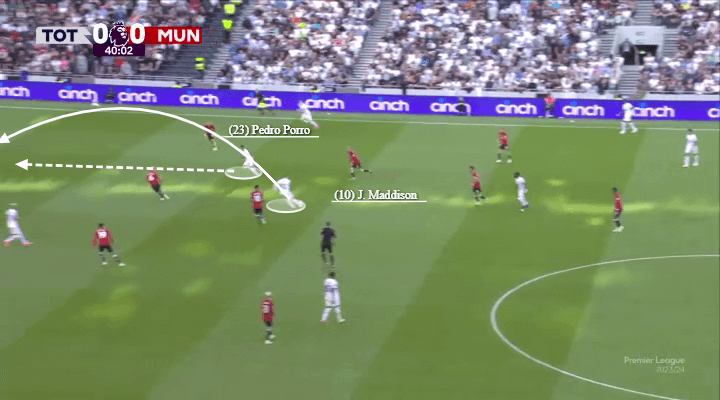 He does indeed get there first, but puts the shot well wide:
Away to Burnley, Destiny Udogie has just dribbled from left-back into midfield but Maddison hasn't moved. He has stood perfectly still, waiting for Udogie's pass and knowing that Manor Solomon (out of frame behind him) has made a run down the Tottenham left:
Again, Maddison hits a first-time pass, this time with the outside of his right boot, allowing the ball to curve inwards slightly towards the penalty area; Solomon will catch up to it and fire his delivery low across the penalty area:
Maddison has four assists from just six league games and that impressive figure would be higher were it not for some poor finishing.
That day at Bournemouth, he breaks from his own half and skips past a player with the intention of finding an angle to feed Richarlison:
The pass is perfectly weighted…
… however, a confidence-shy Richarlison doesn't shoot first-time from this position, instead wanting to take an extra touch to cut inside, and the chance goes away:
Richarlison is the beneficiary of another excellent through ball here, in the first game of the season away to Brentford:
As with the Bournemouth example above, the weight of pass is perfect. On this occasion, it's a tougher angle for Richarlison, who doesn't hit the target:
Maddison's vision seems to be a step ahead of others.
In this move against Sheffield United, he spots Porro's run instantly and attempts an ambitious clipped pass over the defence:
The ball bounces just too far in front of Porro, but the intent and the execution are almost perfect:
"It's instinct and awareness, ability and an appreciation of where the game is," Maddison once said. "Is it right to play a through ball or keep possession for a bit because you've been chasing it for a couple of minutes? It becomes almost second nature with practice, really. You have to know where the opposition is mapped out, but also where your team-mates are.
"You're constantly assessing what is going on around you, working out where the best pass is to play or the best run to make."
The below graphic highlights Maddison's most common passes this season, again indicating that variety.
We can see that he works best in the left half-space, plays lots of nice passes out wide and into those dangerous central areas, but is also capable of drifting into the middle himself and linking up play with shorter passes (fourth-most common). His third-most popular shows he likes to get involved in build-up, while the fifth-most common tells us he can be more expansive and pick out passes into the penalty area from that inside-left channel.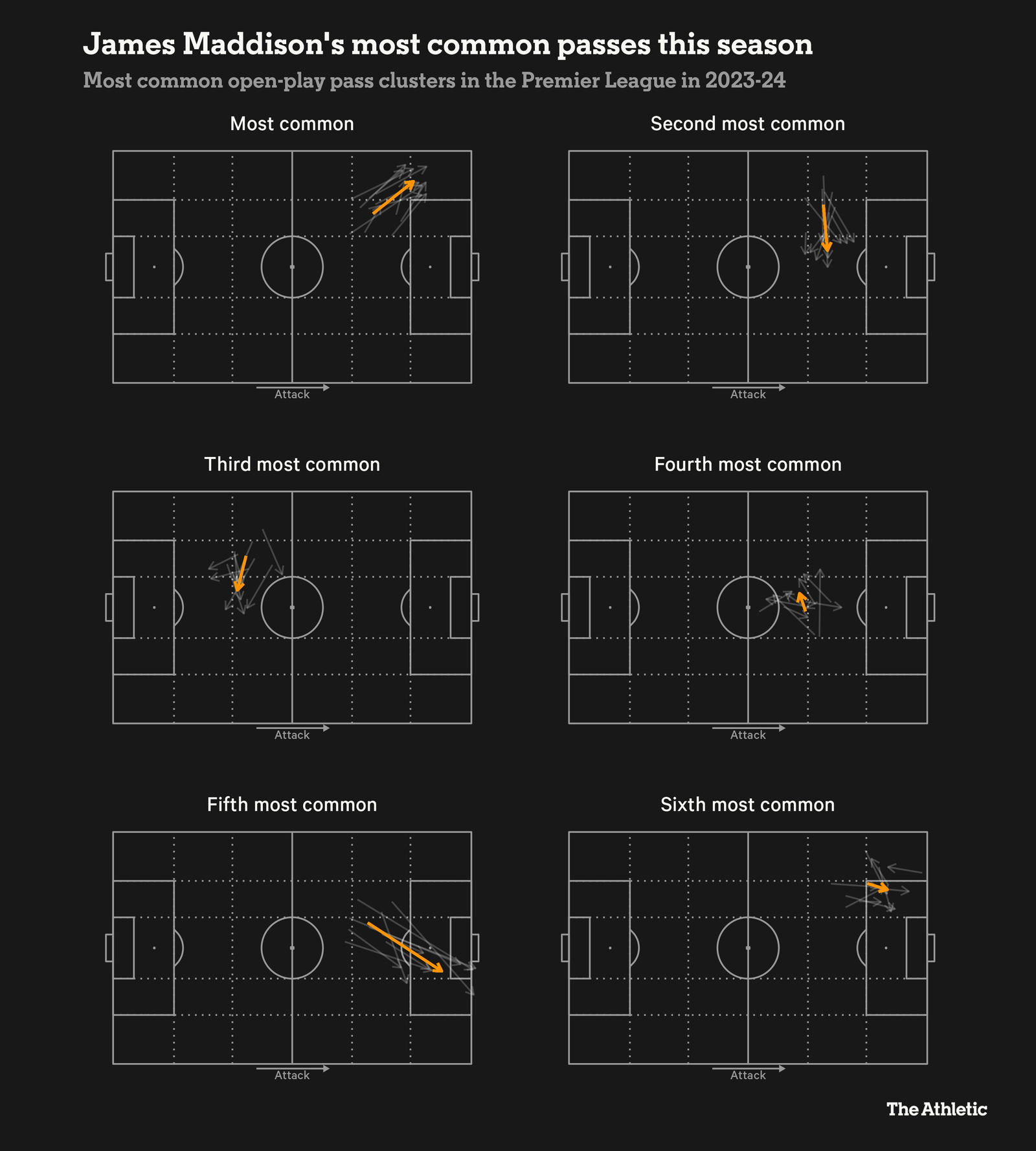 A much quicker article to write than this would be one showing what Maddison cannot do with the ball at his feet, which isn't very much at all.
Goalscorer, assist-maker, thrower of imaginary darts and pass master.
Not looking bad for around £40million…
(Photo: Ryan Pierse/Getty Images)


Read the full article here