As 2022 drew to a close, Cristiano Ronaldo had the unusual experience of going to a World Cup without a club, available to suitors who might want to add one of the game's great players to their squad for the second half of the season.
The 37-year-old had indicated he wanted to be involved in the Champions League but, on Friday, signed for Saudi Arabai's Al Nassr in a deal worth a reported £177million ($214m) a year.
Ronaldo's performances in the first half of the season for Manchester United and at the World Cup for Portugal suggested he is a player unable to reach his previous heights. So, we thought it would be an interesting experiment to place him at eight different clubs in Football Manager 2023 and see how he would perform for the remainder of the campaign. We ensured he joined each one in January to reflect how he would fit into a new team as a mid-season acquisition.
Unfortunately, the Saudi Pro League is not an option in the game so this exercise was done with a view to gauging what Al Nassr can expect from their big-money recruit in general terms, rather than trying to work out how he will get on in Saudi Arabia specifically.
We chose some teams who seemed realistic options to the completely outrageous and sat back as the 196-cap, 118-goal Portugal international produced a series of mixed results in FM23…
---
Graham Potter's need for a reliable option up front is well documented. Armando Broja is out for the rest of this season with a knee injury, Pierre-Emerick Aubameyang is another in the latter stages of his career at age 33 and Kai Havertz's form, when played as a No 9, has been inconsistent.
Enter Ronaldo.
In our FM23 simulation, Chelsea were sixth at the start of January, three points off the top-four spots. A title challenge seemed out of reach, but securing a place in next season's Champions League did not, which provides us with a necessary sub-plot.
Chelsea succeeded in finishing in the top four, but Ronaldo had next to no impact. He made 16 substitute appearances, with just 10 of those coming in the Premier League, not managing a single start or goal during his six-month stay at Stamford Bridge.
The club reached two major finals, winning the FA Cup and losing to Liverpool in the Champions League showpiece, but in both instances, Ronaldo was an unused substitute. He offered very little under Potter, ending the season with no goal involvements.
---
Before he first joined Manchester United in 2003, Ronaldo was said to have been close to a move to Arsenal, with the north London club reserving their No 9 shirt for him. Arsenal's current No 9, Gabriel Jesus, picked up an injury playing for Brazil at the recent World Cup that could keep him on the sidelines for several months.
To replicate real-life conditions, we ensured Jesus had a knee injury from the start of the save that would keep him out until April. That meant Arsenal's league position was likely to be skewed by his injury before Ronaldo joined, but it was necessary to get a better idea of how the latter might perform.
Before his arrival, Arsenal were fifth. They end the season in sixth with no trophies and a Europa League quarter-final exit against… Manchester United. Ronaldo scored seven goals in 26 games. For context, Eddie Nketiah made 48 appearances — 40 of which came from the bench — and only netted eight times.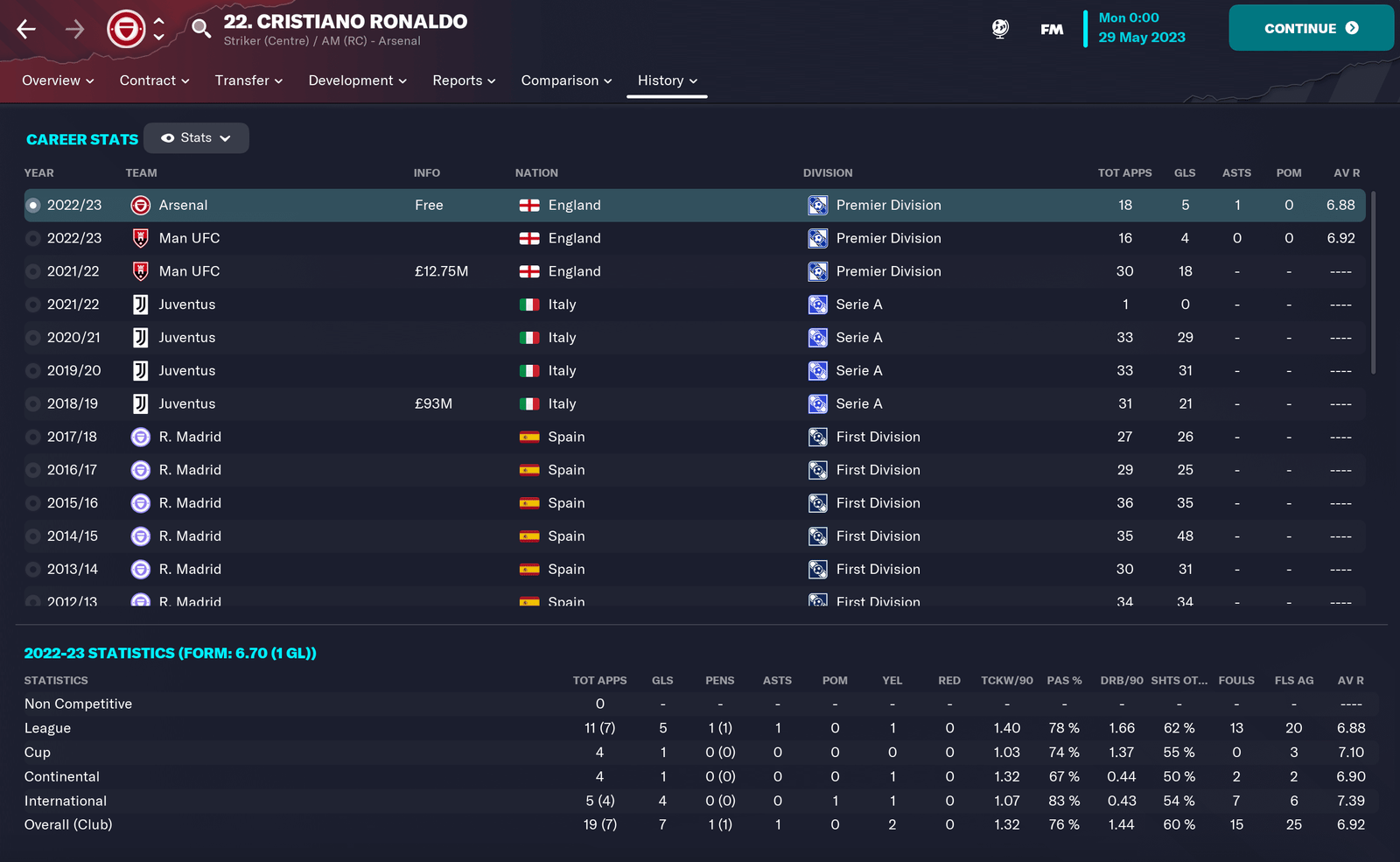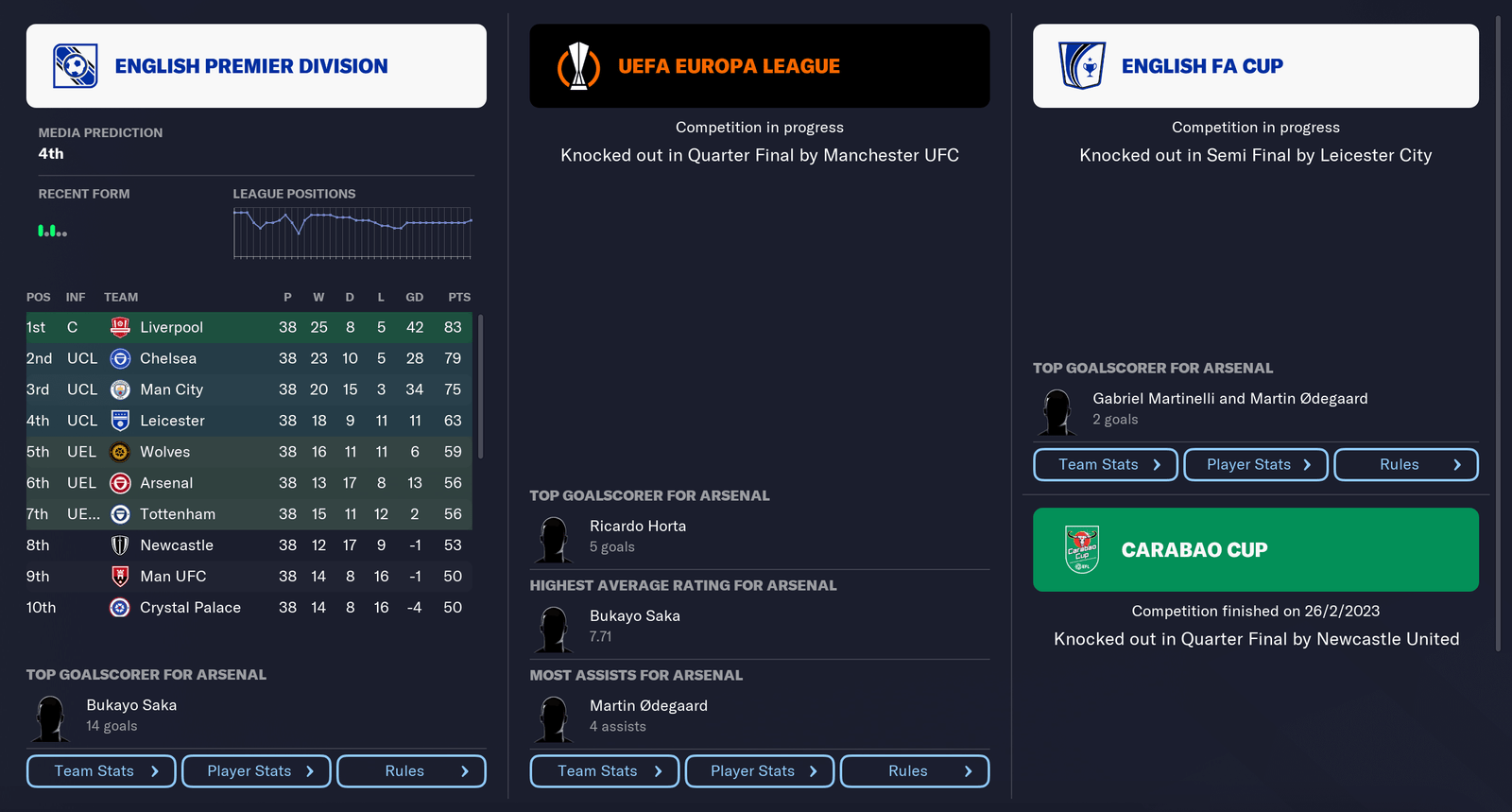 ---
Paris Saint-Germain
Ronaldo at the same club as Lionel Messi sounds like a disaster in waiting. Not because he would be asked to play alongside a fellow modern great, but because at PSG he would have to dethrone Kylian Mbappe just to make their starting XI.
PSG would also likely win the French title regardless of whether Ronaldo joined them, but if he could help them get over the hump in the Champions League following recent losses in the final and semi-finals, this maybe this hypothetical move would have made sense.
To the surprise of no one, the Paris giants were top of Ligue 1 at the start of January, already six points clear.
By the time the curtain drew on the season, PSG had won the league, but only just — a last-day victory helped them move above Monaco — while in Europe, it was another case of close but no cigar. Ronaldo scored an extra-time winner against Liverpool in the semi-finals, but PSG then lost the final 3-0 to Manchester City.
The Portuguese did prove to be a useful addition with five goals in 19 games (17 of those coming off the bench) but, ultimately, PSG's wait to be crowned European champions continued.
How did Ronaldo and Messi do as team-mates? Not great. Ronaldo never assisted a Messi goal, and Messi never assisted a Ronaldo one. Indeed, there wasn't a single game in which the two greats both scored.
---
Sporting Lisbon
In the summer of 2003, a teenage Ronaldo played against Manchester United in a friendly for Sporting Lisbon. A week later, he was a United player.
When we gave him the chance to return in FM23, he became their undisputed starter up front and scored six times in 17 league appearances, but Sporting failed to challenge for the title. They were third when he arrived and finished fourth, while also being eliminated from the Europa League by Ronaldo's previous employers.
With the start of the 2024 European Championship less than 18 months away, it would be logical to assume Ronaldo has one eye on being a part of Portugal's squad, even though he will be almost 40 by then. To be in that conversation, he'll need to be playing regularly, particularly after 21-year-old Goncalo Ramos displaced him in the knockout stages at the 2022 World Cup and promptly scored a hat-trick against Switzerland.
This FM23 experiment suggests a return to Sporting might have been one of his better options, as he would likely have played regularly at a high level and would still have been competing in the European competitions for his boyhood club.
---
The MLS team co-owned by David Beckham and managed by Phil Neville are confident of signing Messi in real life. Whether that move ever happens remains to be seen in the wake of his World Cup triumph less than two weeks ago, but a flagship transfer does not seem to be out of the question for the Florida side.
In MLS, 14 of the 29 clubs qualify for the end-of-season play-offs which decide the champions, and Ronaldo's arrival helped Miami achieve that goal in FM23. But they failed to put together any kind of meaningful push once they got there.
Critics will point toward the fact Ronaldo did not score in their biggest game of the season, a 1-0 defeat by New England Revolution in the quarter-finals, while loyalists will highlight that Miami won the American version of the FA Cup.
A return of 18 goals from 42 appearances was respectable but nothing more for a player who holds the record for having scored the most goals in the history of the Champions League.
All-in-all, Ronaldo's move to Miami in FM23 proved solid but not spectacular.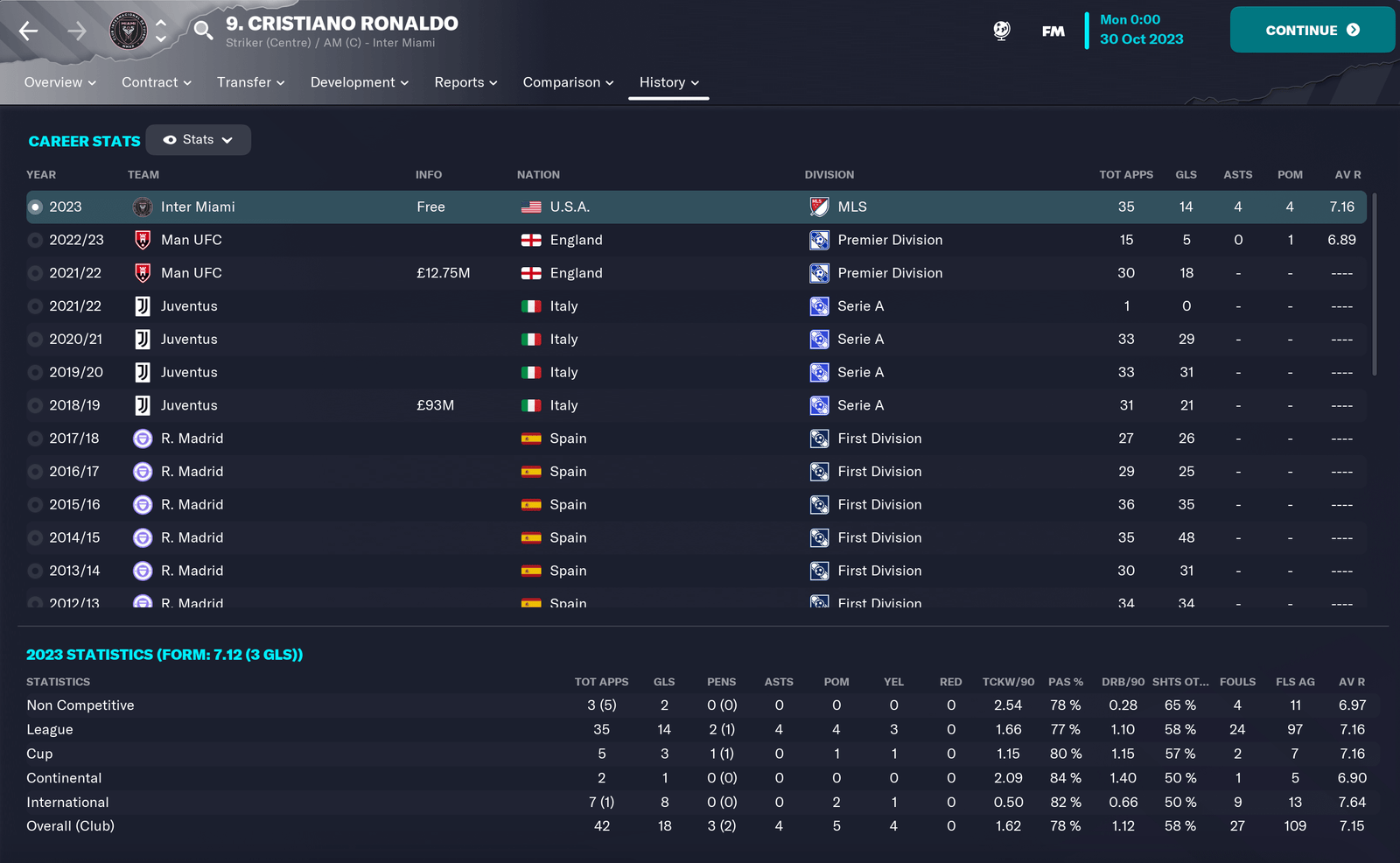 ---
Despite being firmly in the hunt for Champions League football this season, Eddie Howe's side are targeting long-term additions that will add value to the club in the next few seasons. Up front, the priority is signing a versatile forward.
All the above suggests they have little interest in signing Ronaldo in real life. But the idea of adding the star power he would bring to a club with ambitions to reach a level of global fame was too much of a fun experiment to overlook, so here we are.
Newcastle were sixth in the league at the start of January, and one position worse off by the time the season drew to a close. Ronaldo finished with 17 Premier League starts and four goals and, most importantly of all, Newcastle ended the season with a trophy, their first major domestic silverware since 1955, as they beat Liverpool in the FA Cup final.
With an average rating of 6.95, Ronaldo put in a decent shift on the right-hand side of the attack. He was by no means a liability but didn't do much to elevate the side beyond their current capabilities.
---
Wrexham
Ladies and gentlemen, we have now entered the territory of the outright outrageous.
Wrexham are a fun story, a club with Hollywood-actor owners who are aiming to rise back up through the ranks from non-League having played in what is now the Championship in the 1980s. So what would happen if he had opted to join the north Wales club (handy for the short drive across from Cheshire!) in FM23?
The outcome may seem obvious, but promotion to the EFL didn't come easily. Wrexham finished second in the National League and with only one club going up automatically had to defeat Eastleigh 1-0 in the play-off final to seal the deal, with Ronaldo scoring the decisive goal.
Ronaldo was not often used in a central attacking position either, with FM23's algorithms instead preferring to have Paul Mullin play through the middle, with the five-time Ballon d'Or winner shifted out wide to accommodate a striker who has spent most of his career in League Two, the fourth tier of the English game.
A return of 13 goals in 18 appearances was productive but, given the level Wrexham currently play at and the levels he's played at, bettering Mullin's total of league goals for the full season (14) seemed achievable, and he fell short.
---
Lazio
A return to Italy with Lazio saw former Juventus star Ronaldo enjoy his most successful run at any big team of all our simulations. He turned out to be a productive mid-season recruit for the Serie A side, scoring 11 times in 24 appearances across all competitions.
Lazio were fifth when he joined and still fifth when the season ended, but just about all of the conditions Ronaldo would want from a real-life club were met there. He started often, was able to deliver a respectable number of goals and went on a deep run in Europe, even if it was in the second-tier Europa League rather than its big brother.
Some of our other experiments have shown that he may struggle at a highly-competitive side following his departure from United, but this six-month stay in Rome suggests he can still be a high-value addition in the right environment.
---
Takeaways
Across our eight experiments, Ronaldo made 194 appearances in all competitions and only scored 66 goals, with 31 of those coming when he was placed in MLS and non-League.
At bigger clubs, he often occupied the role of super-sub… and didn't often provide much of a spark. For clubs with lower profiles, he started a fair few games, but also had to accommodate talent already on the books, and as such, was shifted out wide instead of being given the keys to lead the line more centrally.
The spell at Lazio proved fruitful, but outside of that, he often struggled to hold down a starting role elsewhere, and when he did, he didn't provide the kind of impact fans might expect to see from one of the great players of his era.
Ronaldo's profile would dictate that he would probably start more often than not for most clubs, but if FM23 is anything to go by, it doesn't seem likely he will reward Al Nassr's confidence in his ability as a starter with an abundance of goals.
(Photo: Matthew Ashton — AMA/Getty Images)


Read the full article here