It might be a new year but Chelsea are still trying to solve their same old striker curse.
Their attack is stuttering, joint-12th among Premier League teams for goals (20) and 15th when it comes to expected goals (18.6).
The last Chelsea striker to score 10 or more goals in a season was Tammy Abraham in 2019-20. Their joint-top scorers this season — Raheem Sterling (injured) and Kai Havertz — have scored only four goals each. Graham Potter also revealed yesterday that Christian Pulisic, the USMNT forward, is facing months out through injury.
Signing the 23-year-old Portugal forward Joao Felix on an expensive, six-month loan from Atletico Madrid will raise some eyebrows because of limited minutes and previous price tags — but what sort of player are Chelsea getting?
---
Positional versatility and play style
"My best position is as the second forward," Joao Felix told The Athletic last February. "Playing like a No 10, with a guy in front of me."
At Atletico, he thrived alongside No 9 Luis Suarez in a 4-4-2 but Diego Simeone's switch to a back three saw Joao Felix used as a No 10 in a 3-4-2-1, behind the former Chelsea forward Alvaro Morata.
His Smarterscout pizza chart from last season — where he has accrued a healthier number of minutes than 2022-23 — shows a versatile forward who can play high-value passes upfield (progressive passing, 78 out of 99) and attack defences through dribbles (carry & dribble volume, 89 out of 99) with an above-average degree of end product (xG from shot creation, 65 out of 99).
The short-term nature of this deal may not help player or club, though. Joao Felix has never played consistently at Atletico and his minutes have been declining since he arrived.
Of his 96 La Liga appearances, 41 were as a substitute and, rather remarkably, he has only started and finished 12 games in the league for Atletico. Simeone started him in just one of the final 12 games of the 2020-21 title run-in.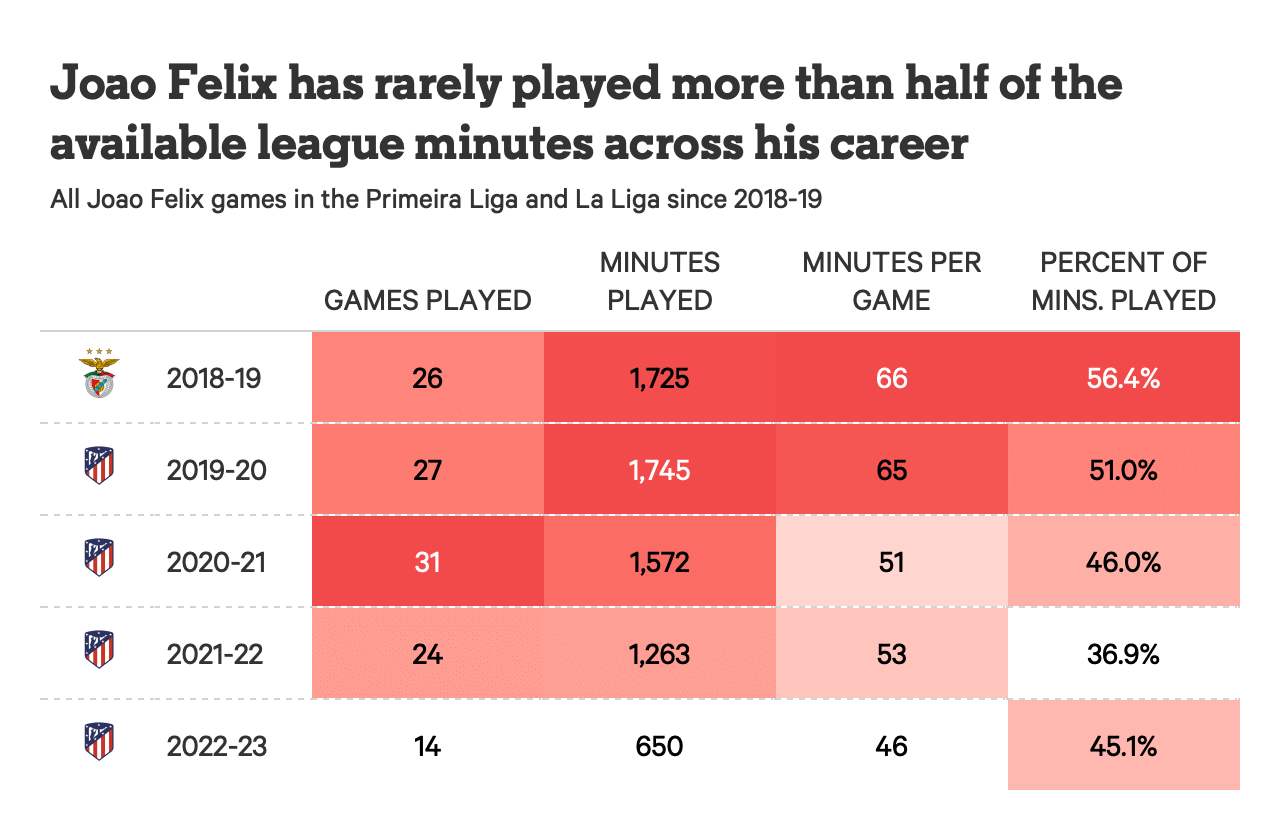 Per Transfermarkt, he has missed 35 games through injury since the start of 2017-18. Although he has never been out for significant stretches of time, he has never really managed an extended run of form.
It took until December 2022, more than three years after his Atletico debut, for Joao Felix to score in three consecutive La Liga games. In the first of those three games he scored twice against Cadiz — which was his sixth La Liga brace. He may not be the most consistent in terms of availability or output, but when he's on form, Joao Felix is a force to be reckoned with.
João Félix has been heavily involved for Atlético Madrid since the start of last season… when he's played. pic.twitter.com/7n3tpuBsVW

— Opta Analyst (@OptaAnalyst) January 9, 2023
He won't get a pre-season to bed in at Chelsea but they need him to hit the ground running. Those expecting immediate, consistent attacking returns might need to temper their expectations.
---
Combination play
Joao Felix's biggest strength is his ability to link attacking moves with team-mates.
Take his assist for Atletico's winning goal at Rayo Vallecano in March 2022. This was a rare example of Atletico attacking against a low block, which is something he is likely to face at Chelsea.
As the eventual scorer Koke recovers an overhit cross from the left, Joao Felix checks both of his shoulders to see his surroundings…
… and drops off to receive from the midfielder (solid white arrow), before finding Koke's forward run with an expertly weighted pass (golden arrow).
Joao Felix's goal at SD Almazan in the Copa Del Rey in November is another example of this combination against a set defence.
His first action of the Champions League tie at Porto in September 2021 involved recovering a loose ball from a long Atletico goal kick — they launch 63.8 per cent of their goal kicks compared to Chelsea's 44.6 per cent — and playing a quick one-two (solid white, then maroon arrow) with Antoine Griezmann…
… and crossing early with his non-dominant left foot. Porto clear but Atletico only have two attackers on the edge of the box.
At Getafe last August, Joao Felix became the third Portuguese player since the turn of the millennium to assist three goals in a La Liga game, following in the footsteps of Luis Figo vs Las Palmas in 2002 and Cristiano Ronaldo vs Almeria in 2011 (both for Real Madrid).
The first two assists from Joao Felix are similar, incisive passes after receiving the ball between the lines.
🤩🅰️ @joaofelix70 nabbed these 3⃣ 𝙚𝙭𝙥𝙚𝙧𝙩 𝙖𝙨𝙨𝙞𝙨𝙩𝙨 for @atletienglish on matchday 1⃣ of #LaLigaSantander!! ❤️🤍🇵🇹 pic.twitter.com/NsGPjDMI73

— LaLiga English (@LaLigaEN) August 17, 2022
Though Atletico's counter-attacking style influences his chance creation, there is promising variety in Joao Felix's assists, from different parts of the pitch and a range of final passes (crosses, cutbacks and through balls).
His trademark has been a defence-splitting pass from central spaces directly outside the box. Academics termed this area of the pitch 'zone 14' and found it to be a significant zone when it comes to chance creation.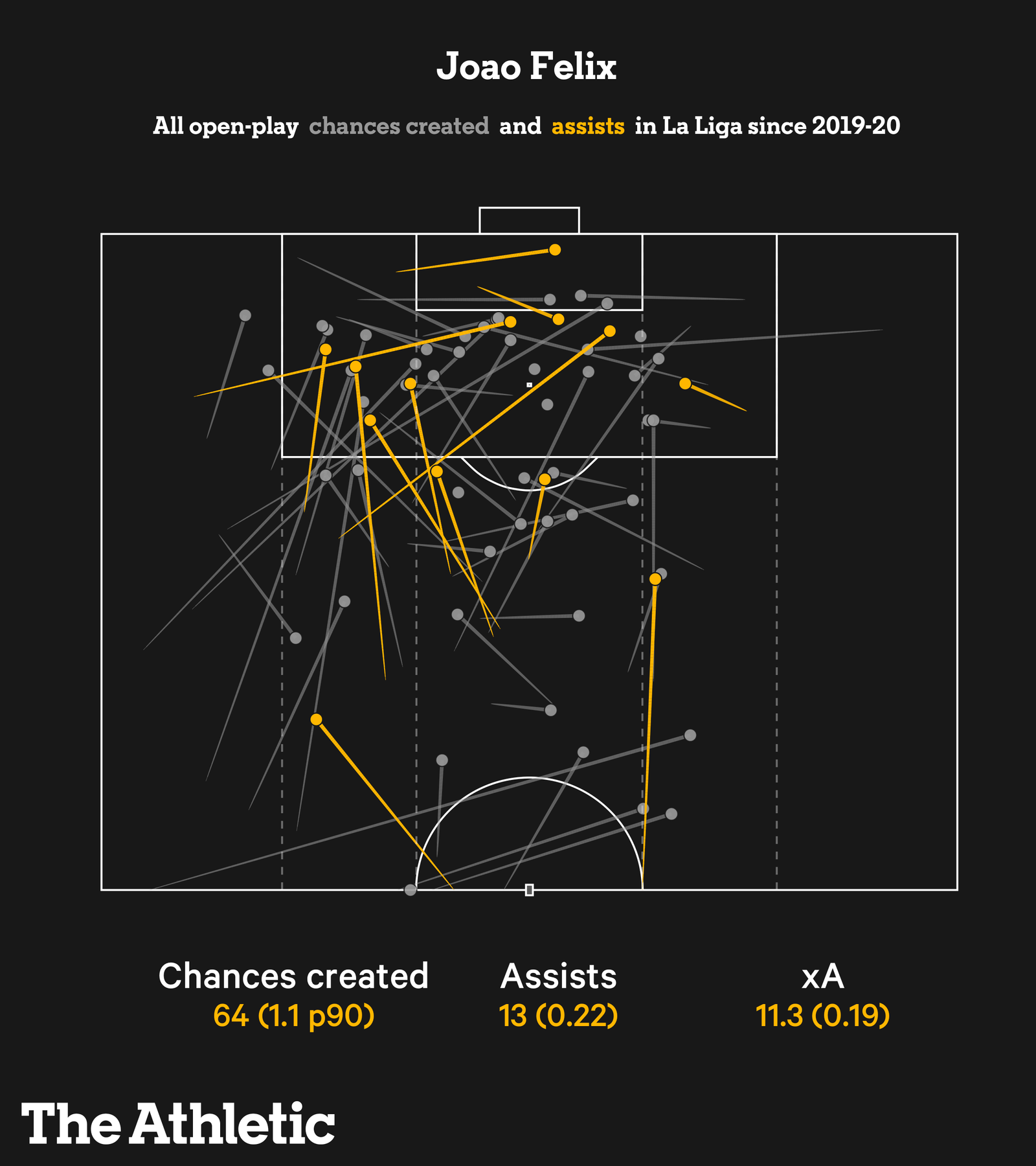 Chelsea have struggled to dissect opposition defences all season. Their 22 completed through balls this season is fewer than 10 Premier League sides and way behind Liverpool, Manchester City and Manchester United (all over 40).
Their xG has nosedived and the trend graph below shows how Chelsea are creating less than their opponents each game.
Joao Felix's first goal against Red Bull Salzburg in October 2020 shows how devastating quick combinations can be against disorganised defences.
He runs inside Suarez and receives from the No 9, then plays the ball into Angel Correa (blue arrow) and runs beyond him (dashed white arrow)…
… then Correa completes the one-two by letting the ball run across him, away from the defender and baiting the goalkeeper, to square it (white arrow) for an unmarked Joao Felix to score.
Compared to Chelsea's forwards, Joao Felix — even in Atletico's attack — is an above-average creator (expected assists, xA) when you compare him to other midfielders and forwards in Europe. He exceeds his new Chelsea team-mates Mason Mount and Havertz for xA, and finds good shooting positions (xG). It is likely, though, that the Portugal international will feature in a Chelsea attack with Mount and Havertz, rather than instead of them.
Interestingly, since August 2021, Joao Felix's attacking output is almost identical to Sterling's, as you can see from the graphic below.
He does not need to play off a target-man style No 9 (Pierre-Emerick Aubameyang) but will thrive around technically secure players in a fluid attack that provides service and allows the 2019 Golden Boy space to roam.
---
Dribbling and ball-carrying
Chelsea have the fewest shot-creating dribbles in the Premier League this season (eight).
Potter needs more dribblers.
A higher proportion of Joao Felix's shot-creating actions are from dribbles and fouls won. He offers a different kind of threat.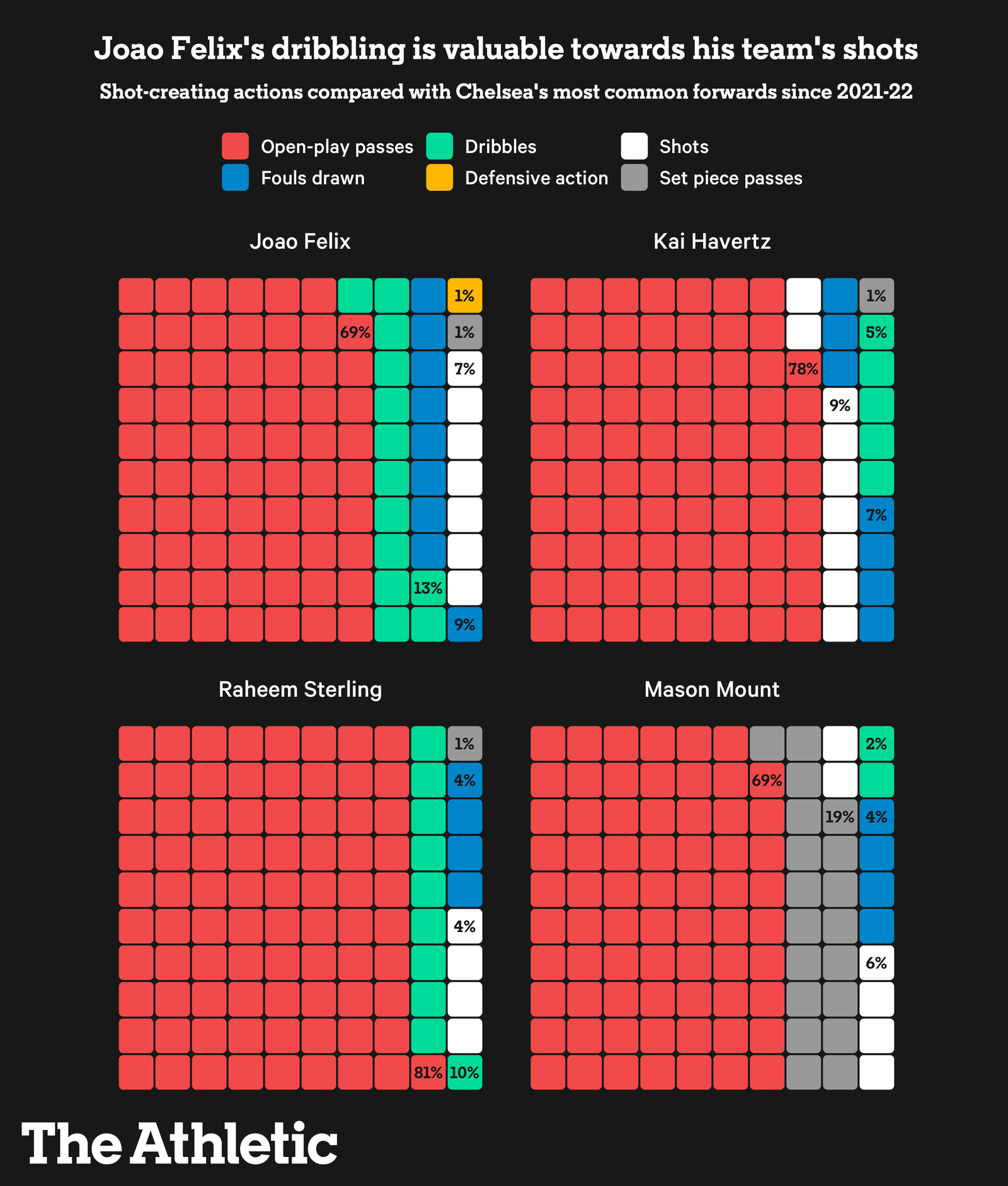 Joao Felix strongly favours his right foot and when playing off the left he dribbles inside like an inverted winger, although he can go both ways. This suits counter-attacking better than organised build-up but can provide some solutions for Chelsea.
Take this example from Atletico's game against Granada in December 2021.
The home team have nine outfield players behind the ball when Joao Felix, wide on the left, receives a pass from Koke.
He fakes an inswinging cross, which Antonio Puertas jumps to try to block. This creates space for Joao Felix to dribble inside and fire a shot against the post.
In Chelsea's possession game, Joao Felix's ability to receive the ball under pressure and dribble out of trouble could be an important tool. He showed this against Liverpool in the Champions League in October 2021.
Joao Felix receives the ball between the lines (white arrow)…
… and, despite pressure from either side, he bursts out to the wing and drives down the touchline beyond Naby Keita (Chelsea fans will soon find out Joao Felix is capable of beating most players in a footrace)…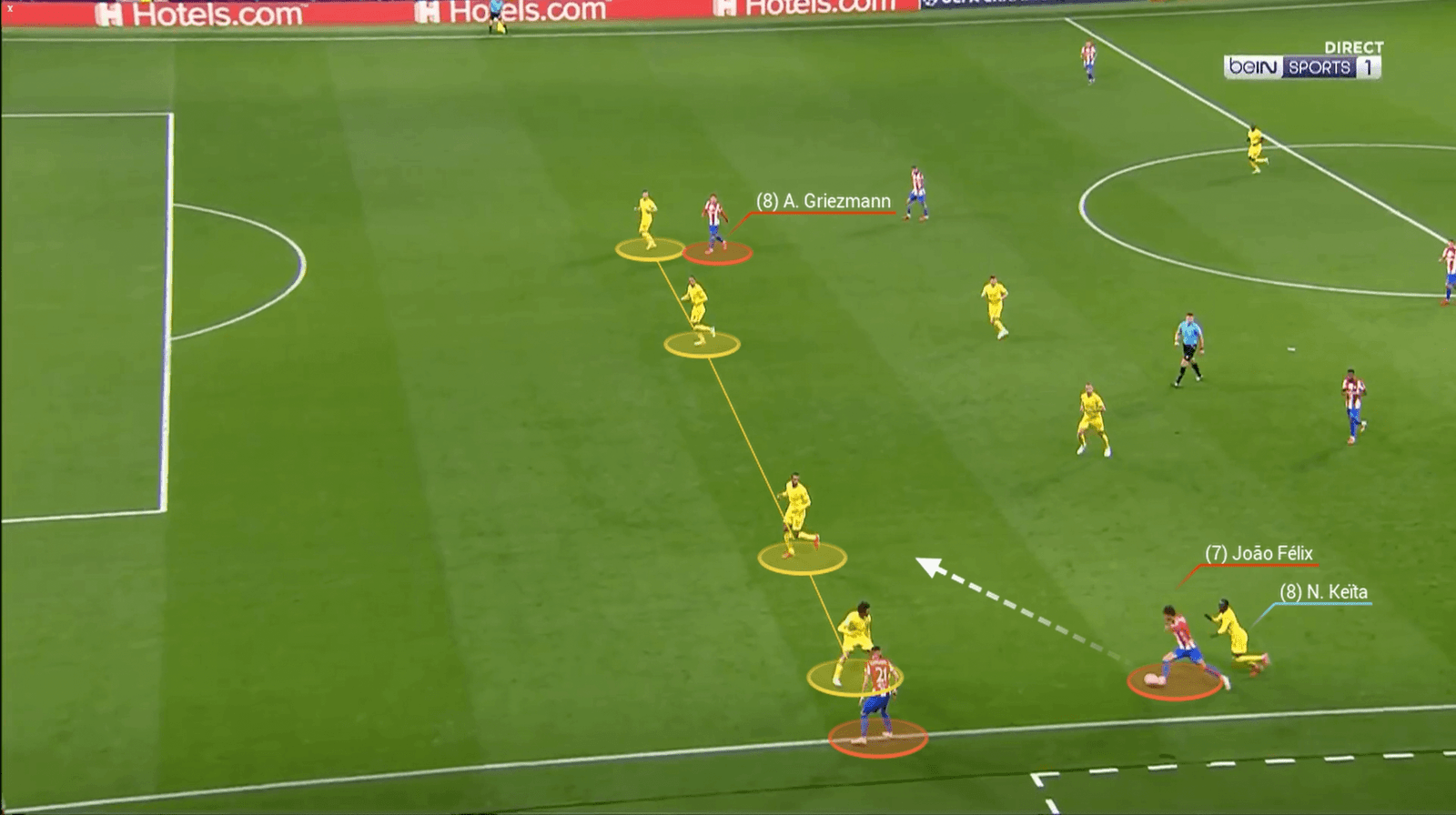 … before passing inside to the on-running Griezmann, who takes the ball in his stride and scores.
When Joao Felix has the ball with his back to goal, he uses his 5ft 11in (180.3cm) frame well, often putting his arm across defenders but also scanning before receiving passes. He is not afraid of contact and is fouled regularly.
This was clear right from his La Liga debut against Getafe in August 2019.
🥶 𝐈𝐂𝐄𝐘 🥶

🇵🇹🔱 Who remembers when @joaofelix70 did the ol' megnuts on his #LaLigaSantander debut for @atletienglish? 🥜🤯#LaLigaHistory pic.twitter.com/2YCPhPpvNo

— LaLiga English (@LaLigaEN) August 18, 2022
Joao Felix can improve by better picking his moments to dribble.
Opponents often double or triple up on him and he will still look to try and dribble his way through, which can bleed possession and could leave his side at risk of being exploited in transition.
Over the last year, he ranks in the top nine per cent of forwards in Europe's top five leagues for dribbles attempted (3.3 per 90) and in the top 17 per cent for dribbles completed (1.2) but his success rate of 37.1 per cent is bettered by 75 per cent of his positional peers.
---
Finishing/runs in-behind
Joao Felix's raw goal numbers look rather modest: six, seven, eight and currently four in three and a half seasons under Simeone, averaging a goal every 209 minutes in La Liga.
But he is getting better as a finisher and a decision-maker.
At least one-third of Joao Felix's shots have been from outside the box in every season but last season was his best for average shot distance (14.8 yards), xG per shot (0.16) and, critically, conversion rate (21 per cent).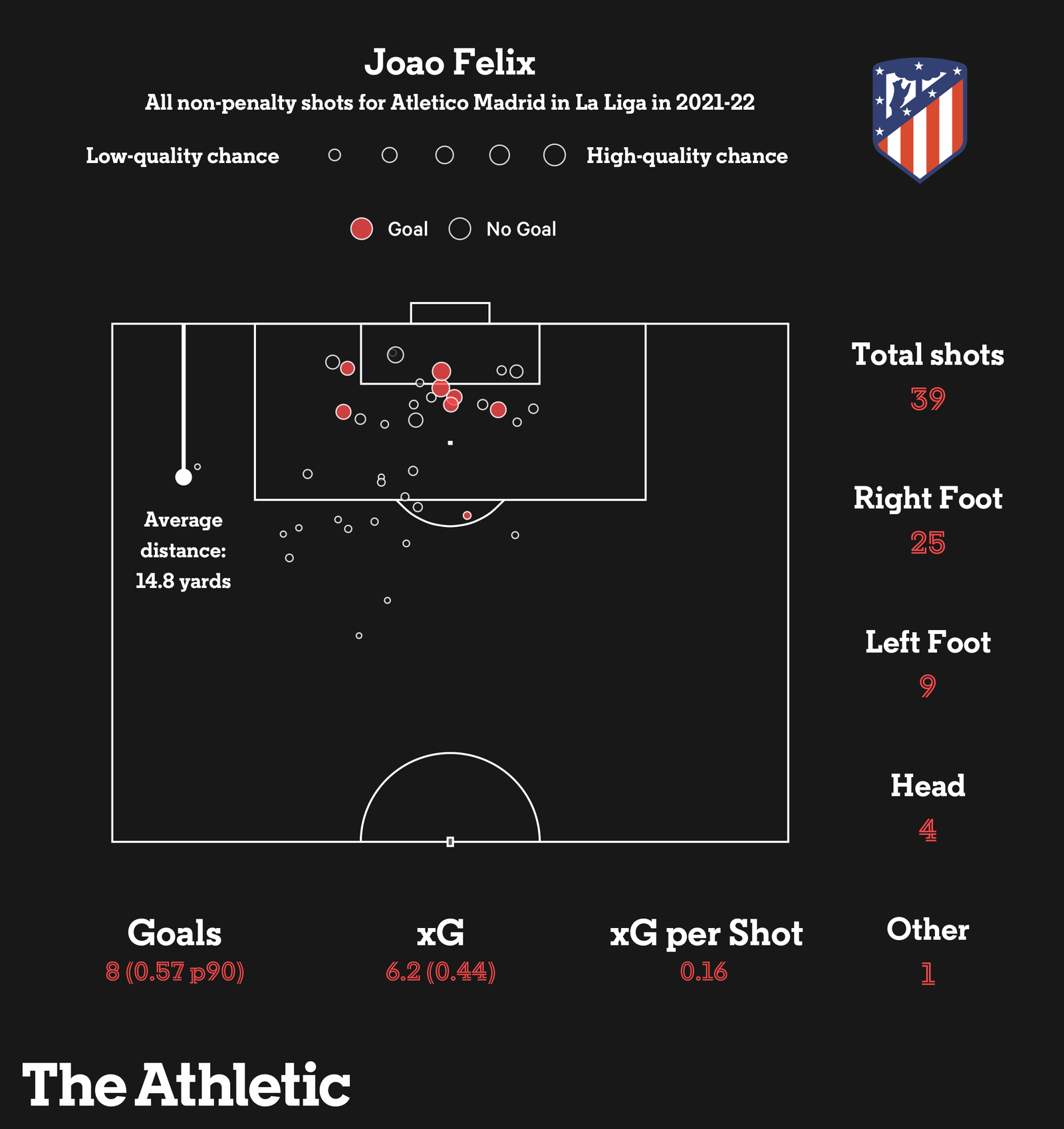 He shoots well with both feet (following a dribble as well as one-touch), often scores goals on the angle and finishes fast breaks.
Reducing the number of shots he takes when he doesn't have a clear sight at goal would help take his game to the next level. Look at this one late in the Champions League defeat to Chelsea in March 2021. There were three defenders in the way and his shot was deflected wide.
Chelsea's more organised, expansive attacking style should complement Joao Felix's ability to score a wide variety of goals.
He put Portugal ahead against Ghana at the World Cup, racing in behind to meet Bruno Fernandes' through ball (gold arrow)…
… before delicately chipping the goalkeeper.
A lovely finish 😍

João Félix puts Portugal back in front! #ITVFootball | #FIFAWorldCup pic.twitter.com/YyxGOACFFY

— ITV Football (@itvfootball) November 24, 2022
JOAO FELIX

Portugal takes back the lead! 😱 pic.twitter.com/hACF3YRDAa

— FOX Soccer (@FOXSoccer) November 24, 2022
An underrated element of Joao Felix's game is his aerial ability.
"I jump well, and I always practised scoring headers with my father (a PE teacher and youth coach)," he told The Athletic.
Joao Felix is right — he does jump well, and he is spatially aware too. He uses his agility to find good scoring positions and attack the ball at speed, scoring unmarked from darting runs and repositioning rather than jumping on top of defenders.
His opener at home to Manchester United in the Champions League in February 2022 is a perfect example.
Joao Felix, returning from an offside position, makes an arced run around Harry Maguire as Renan Lodi drives wide on the second phase of a set piece…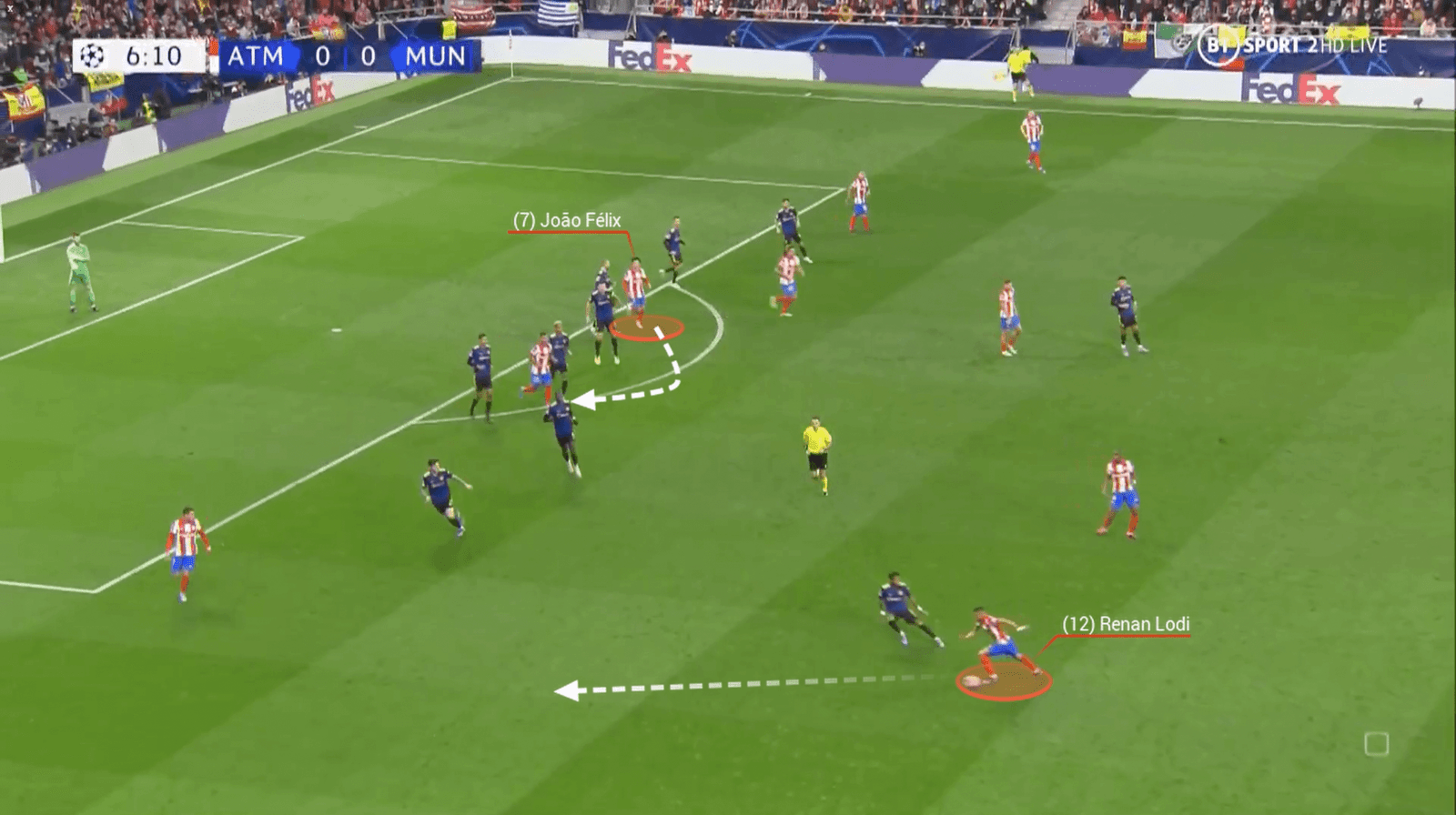 … before meeting the Brazilian's cross at full flight and heading in off the post.
His movement and finish for his first goal against Alaves in April 2022 is textbook No 9 play, too.
He starts between the centre-backs as Atletico attack down the right…
… and goes to dart into the six-yard box but holds off, staying in the left centre-back's blind spot as Sime Vrsaljko crosses…
… and plants a header into the top right corner, from a completely unmarked position.
Just look how well-placed he is between the centre-backs and the goalposts.
He almost scored a headed goal against Morocco in the World Cup quarter-final, timing his run well but Bono made a good low save.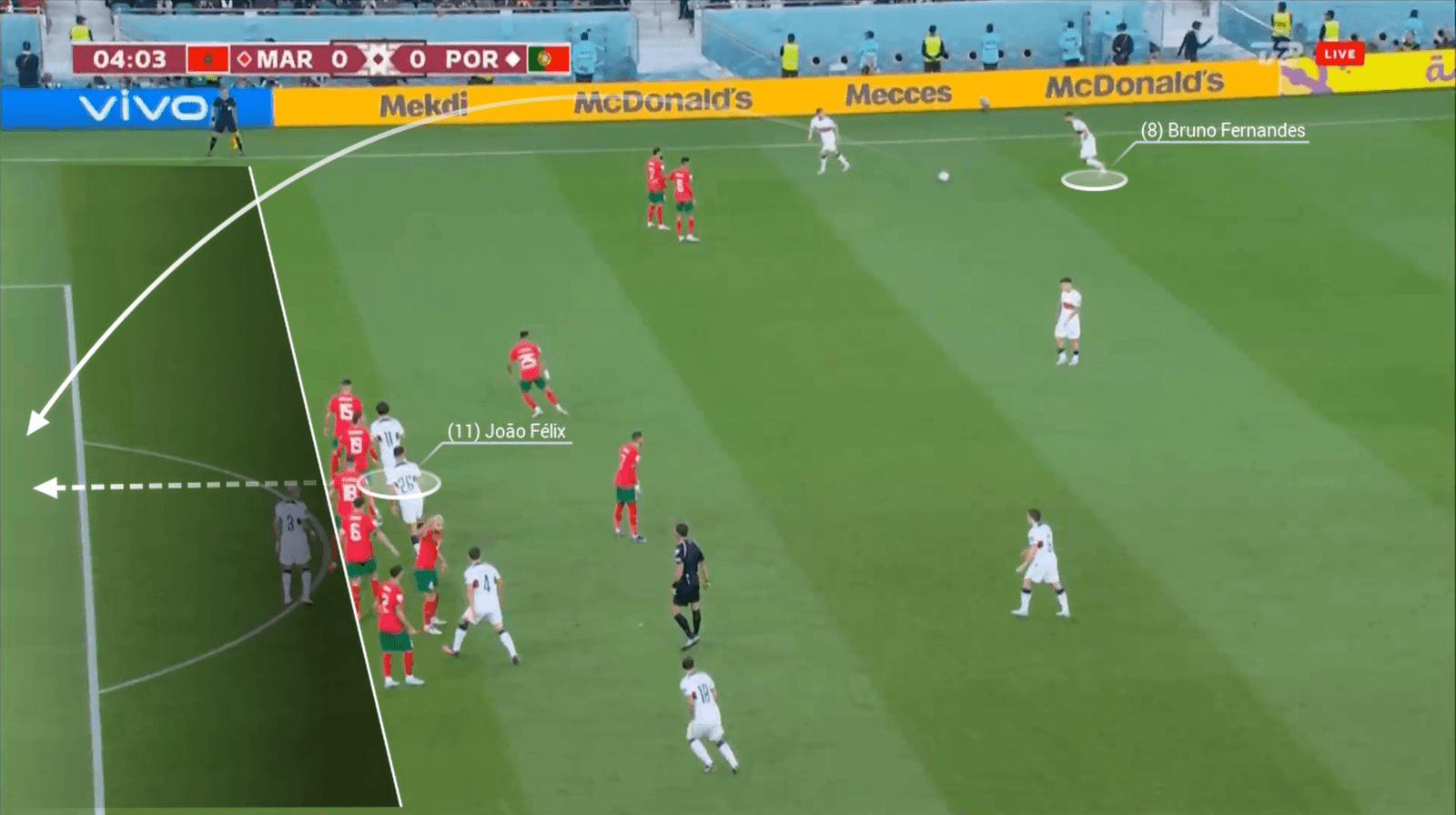 ---
Out of possession
"Here (at Atletico), I learned some things that are difficult to learn at other teams," Joao Felix told The Athletic. "The way we defend, we learn a lot. I have improved a lot in that."
Their style of defending is very different to Chelsea's. Simeone's side rank 61st out of the 98 teams in Europe's top five leagues for tackles in the final third (32), while Chelsea are third in that table (53).
Nevertheless, there have been glimpses of Joao Felix's ability to lead and support a high press.
Arguably this approach suits him. He is capable of accelerating quickly to shut down defenders or block passing lanes and, as analysed above in his combination play, he is spatially aware and a frequent scanner.
Joao Felix's defending created the second of his hat-trick of assists against Getafe last year.
He (yellow dot) is on the left of Atletico's 5-2-3 press, matching Getafe's 3-2 build-up shape.
He is initially set to press the right centre-back Djene, should the defender receive the ball, but Joao Felix spots Stefan Mitrovic trying to pass into central midfield (red arrow) and steps across to intercept…
… before, in typical Joao Felix fashion, assisting Morata with a no-look through ball.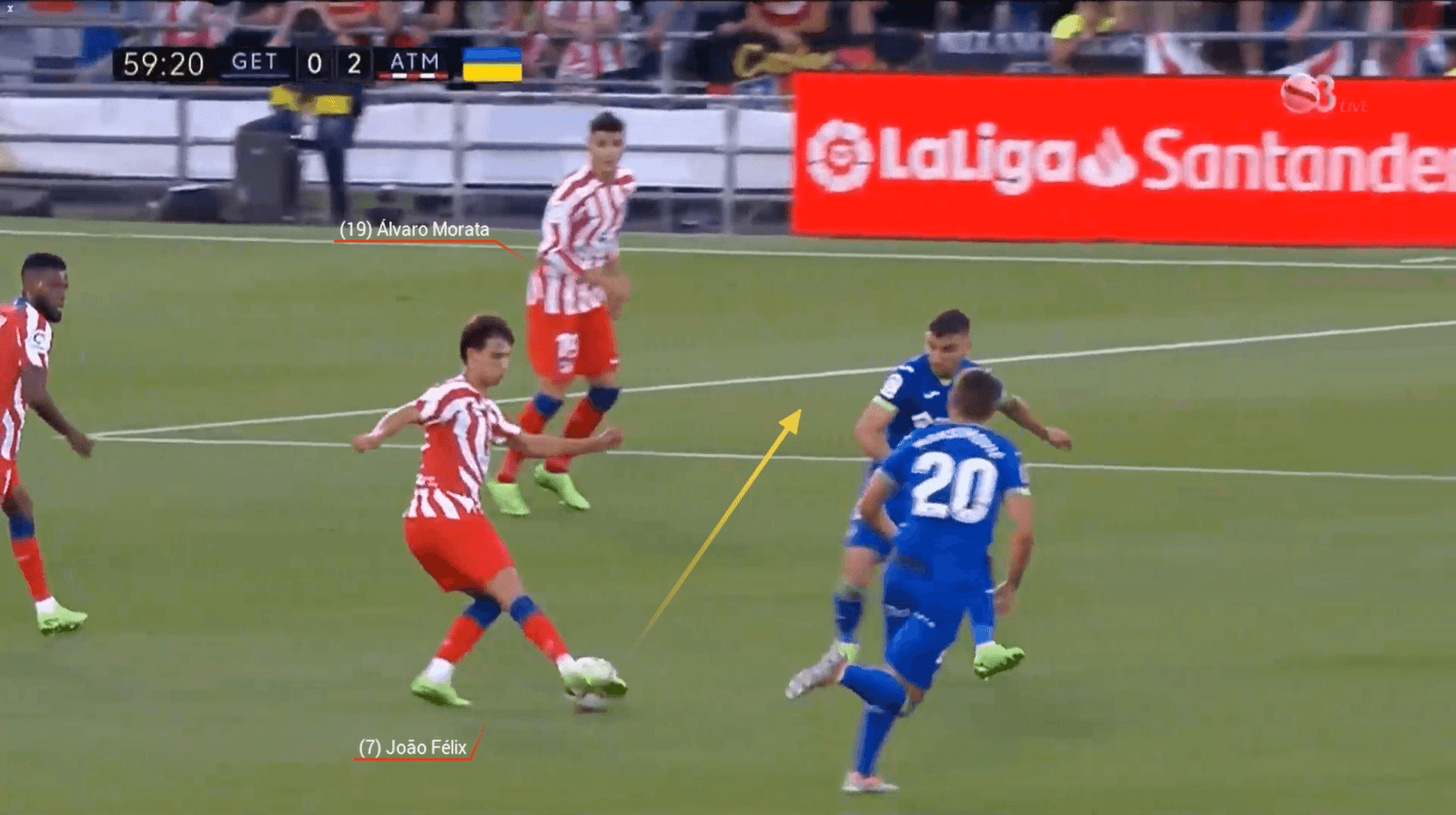 Across the past year, Joao Felix ranks in the top two per cent of forwards in Europe's top five leagues when it comes to interceptions, comfortably his strongest defensive metric.
Another example can be found at home to Cadiz in March 2022.
From the throw-in, he is marking the Cadiz central midfielder Fede San Emeterio but jumps to press centre-back Luis Hernandez after the ball is thrown…
… which forces him back to the goalkeeper Jeremias Ledesma.
Having arced his press to shut off central passing lanes, Joao Felix sees Ledesma shaping to play back to Hernandez (red arrow) and steps across to intercept the ball before scoring to put Atletico ahead inside three minutes.
---
Joao Felix will not solve all of Chelsea's attacking problems — and you could argue the midfield was in more pressing need of a revamp — even if he has the best six months of his career, but if all the pieces fall together then he may well prove enough to help Chelsea realise their ambitions of finishing in the top four.
Given their struggles in attack, injuries to forwards, and the fact that time is starting to run out, it seems a worthwhile gamble.
(Photos: Getty Images; design: Sam Richardson)


Read the full article here