It was a good week for Barcelona. Seven days after beating Atletico Madrid 1-0 at the Wanda Metropolitano, they defeated Real Madrid 3-1 to win the Super Cup, bringing Xavi Hernandez his first trophy as Barcelona manager.
The performances were, in many ways, very similar. In another way, there was a crucial difference.
In Madrid, Barcelona constantly dragged Atletico out of shape with the use of a narrow left-winger. Pedri was fielded on the left of Barca's front three but constantly drifted inside to form a box in midfield, allowing Alejandro Balde to provide the width on the left. Atletico's right-back Nahuel Molina was tempted forward and Barcelona sprinted into the space he vacated.
This time, the shape was very similar. Here's Balde advancing down the left again and Barca's left-winger moving inside to join three team-mates in midfield. The difference, though, was that whereas last week it was Pedri playing that role, this time it was Gavi. Xavi decided to switch his two youngsters.
Real Madrid were, in a sense, prepared for that danger. Just as Atletico's Marcos Llorente was a suitable right-winger for tracking back with Balde, Federico Valverde did the same for Real Madrid here, which meant Dani Carvajal had some licence to move forward and shut down Gavi in midfield.
But just as Atletico had problems when Frenkie de Jong rotated positions with Pedri and overwhelmed the opposition in that channel, Real looked less assured when other players became involved in that zone on Sunday.
Here, with De Jong briefly becoming the centre-forward, Carvajal gets drawn to Robert Lewandowski. That, in turn, allows Gavi to run in behind, where he is found by Pedri's pass. Real, in fairness, react well to this danger.
The opening goal was a slight anomaly — it came after Sergio Busquets stormed forward to press and regain possession quickly. But it was Gavi who finished the move, after Lewandowski showed great awareness of his run and Gavi burst into space before Carvajal could sprint inside and recover.
The second goal was familiar from the Atletico game. Again, it was De Jong's positioning that caused the problem. When Busquets played a first-time ball through to him, splitting Real's midfield, the ball ran loose. Both Carvajal and Eder Militao thought they could get to the ball first — but De Jong slid in to knock it past them. Again, the right side of the opposition defence has been dragged up, then bypassed. Gavi was free to run through and square for a Lewandowski tap-in.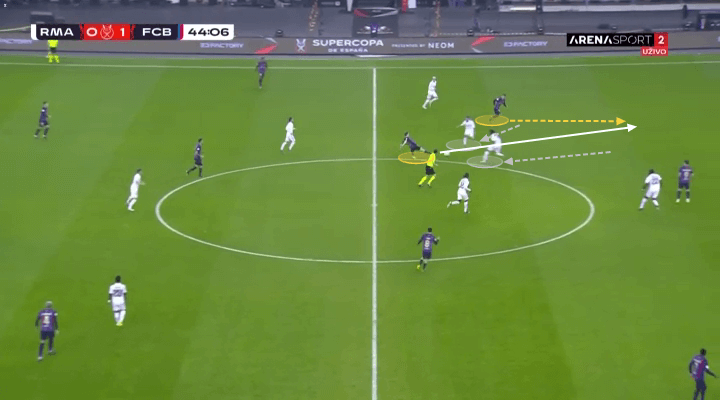 After half-time, Barcelona effectively ended the contest with a third goal that again involved Gavi. This time he pounced on Toni Kroos' risky crossfield pass to win the ball ahead of Militao.
Gavi then swaps passes with Lewandowski.
With Militao completely out of the game, Real's other three defenders are highlighted.
Granted, Kroos is filling in at the far post. But this shows the problem with him not being a proper defender — he checks over his left shoulder, watching the run of Ousmane Dembele. He's unaware of Pedri behind him and Gavi crosses for Pedri to finish. Again, an attack down the left and a far-post tap-in.
And this remained a major problem for Real. Again, Carvajal is dragged inside here, exposing that side of the defence…
He's lucky that Busquets plays a safe pass out to Balde, rather than a direct ball into Lewandowski.
The lingering question, though, is why Xavi decided to switch Pedri and Gavi from last weekend. And the answer is probably about defensive awareness.
Against Atletico, Pedri was highly effective going forward but lacked energy without the ball.
Molina, Atletico's right-back, was troubled defensively throughout the first half but made inroads going forward in the second half as his side launched a fightback. Here's one example of Molina getting space on the outside, with Pedri too slow to close him down. His low cross was thumped just over by Antoine Griezmann, one of several situations where Molina caused serious problems.
Gavi, though, covered ground much more quickly. Though his job involved pressing inside, if Real played the ball behind him and out to Carvajal, he was excellent at sprinting across and preventing Real's right-back from advancing.
Here's another example — Kroos lofts the ball over Gavi's head, but the 18-year-old gets back and makes a tackle.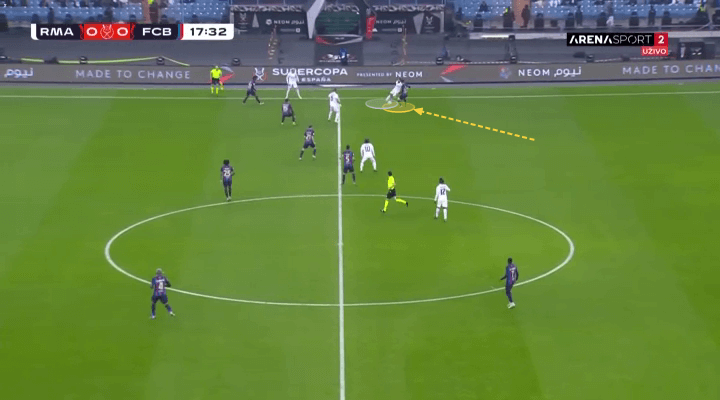 And here, the inverse happens — Gavi starts wide, sensing that Luka Modric is free, and darts inside to put him under pressure.
At times, he acted like a bonus left-back when Carvajal pushed forward onto Barcelona's defensive line. Here, Gavi sprints over to dispossess Carvajal shortly before half-time.
For Xavi, the useful thing about Pedri and Gavi is that they're both typically Spanish, and both typically Barcelona, but actually different types of players, as outlined well by John Muller during the World Cup.
Pedri is a little tidier and better in tight situations, Gavi is more energetic and explosive. That affords Xavi tactical options — albeit within a consistent framework, which increasingly looks like the most harmonious Barcelona side for many years.


Read the full article here