Paco Seirul-lo, Barcelona's long-time head of methodology, used to talk about the different kinds of tactical superiority in football: numerical, positional, qualitative and "socio-affective superiority", which hopefully sounds less like a medical diagnosis in the original Catalan. A better name for that last one might be "chemistry" — when all else is even, players who understand each other better have the advantage.
The last decade of Real Madrid and Barcelona has been defined by pairs of players whose fit and familiarity transcended coaches and systems: Xavi and Andres Iniesta, Cristiano Ronaldo and Karim Benzema, Luka Modric and Toni Kroos, Lionel Messi and pretty much everybody around him at one time or another.
As the last of the old generation drifts toward retirement, new partnerships are already starting to form between the players brought in to replace them. Here are four pairs of young stars whose on-field understanding (or lack of it) could shape the Spanish giants in years to come…
---
Real Madrid: Vinicius Jr and Rodrygo

After narrowly losing out on a young Neymar in 2013, Real Madrid went all in on finding the next Brazilian phenom, even if that meant agreeing to huge transfer fees for teenagers who had barely played senior football.
In 2017, the club completed a €46million deal to sign Vinicius Junior just 10 days after his debut for Flamengo. The next year they dropped another €45m on Rodrygo, who had recently broken through at Santos.
In 2020, they paid €30million to sign Reinier. You probably forgot about Reinier, didn't you? But that was the point. Projecting how even the most talented young players will develop is a risky business. By signing top prospects earlier than other clubs could afford to, Madrid spread their bets around like a VC firm picking start-ups, knowing not all of them would pan out.
Portfolio-style recruitment means the players who do make it may not fit together in obvious ways. Vinicius Jr and Rodrygo both came up as right-footed left-wingers in Brazil, which made getting them simultaneous development minutes in Madrid a little bit of a juggling act. The older and more electric Vinicius Jr got to keep his position, while Rodrygo's flexibility doomed him to filling in at right wing.
It wasn't an ideal fit. Unlike Vinicius Jr, who loves to burst up the sideline before slithering sideways into the box, Rodrygo would rather work centrally between the lines. Even playing on the side of his natural foot, he almost never puts in a cross unless he can drive all the way into the box for a cutback. He's more shifty than explosive on the dribble, and when he's working in from the right on his right foot he tends to show defenders a lot of the ball, making it hard to get comfortable in tight areas.
Still, Carlo Ancelotti saw qualities he liked in Rodrygo. "He's a different player to Vinicius Jr, less talented maybe," the manager admitted last spring. "But he's very intelligent without the ball and he's skilled at being in the right place at the right moment."
To take advantage of Rodrygo's off-ball talents, Ancelotti started encouraging him to come inside and make more runs into the box. It paid off late in last year's Champions League quarter-final against Chelsea, when Rodrygo slipped around Benzema to volley a Modric trivela into the net, sending the tie to extra time. In the 96th minute, as Vinicius Jr dribbled into the box from the left wing, Rodrygo knifed across to the near post, dragging Antonio Rudiger with him and creating space for Benzema to score the winning goal.
⚽️ 15′ Mount
⚽️ 51′ Rudiger
⚽️ 75′ Werner
⚽️ 80′ Rodrygo
⚽️ 96′ Benzema

An EPIC encounter between Real Madrid & Chelsea in the Champions League 🤯

Relive all of the goals from the Bernabéu in just 60 seconds…#UCL pic.twitter.com/Er0td06KRP

— Football on BT Sport (@btsportfootball) April 13, 2022
That arrangement — Vinicius Jr as the wide, playmaking left-winger, Rodrygo as a narrow, box-crashing right-winger — offers one possible vision for how these two could fit together, but Ancelotti has other ideas for Rodrygo. "He has so much potential, more as a centre-forward or behind the No 9 than as a winger," he has said. "I think that'll be his position."
True to his coach's word, Rodrygo has played more centrally this year, sometimes filling in for Benzema and other times operating more like a No 10. His production has exploded: after averaging 0.40 non-penalty expected goals plus expected assists per 90 minutes across his first three La Liga seasons, he's currently on 0.93, the third-highest figure in Spain. Vinicius Jr may still be the star, but now he's got a real partner.
When Rodrygo drifts into the left half-space, where he grew up playing, Madrid can basically field two inverted 22-year-old left-wingers whose interpretations of the role are so different that they wind up complementing each other. Vinicius Jr draws double teams on the wing, making space for Rodrygo between the lines.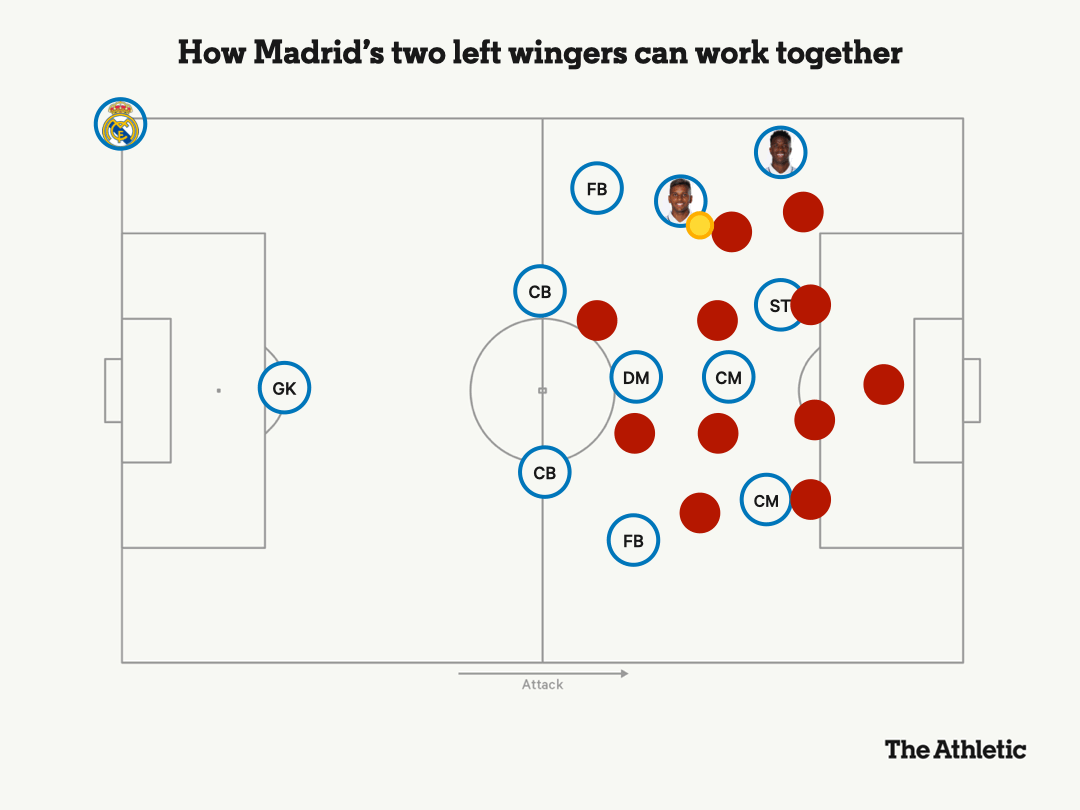 Mapping the pair's passes to each other across four seasons of Champions League play shows just how natural that partnership can be. Rodrygo's most common passes to Vinicius Jr send him up the wing for the one-v-ones that he loves, while Vinicius Jr's return passes put Rodrygo in dangerous areas at the top of the box.
Notice what's missing here: even though they've mostly been fielded on opposite wings, the two Brazilians almost never play crosses to each other. Vinicius Jr gets to the byline to pull the final pass back to Rodrygo, or Rodrygo slips a sneaky through ball to Vinicius Jr from the top of the box. Either way, the ball stays on the ground.
That style of breaking down defenses — heavy on dribbling and close combination play through the middle — ought to suit Madrid's next big Brazilian prospect, Endrick, a short, technical left-footed striker who's scheduled to arrive next year, just as soon as he turns 18.
---
Like Vinicius Jr and Rodrygo, Barcelona's midfield Golden Boys Pedri and Gavi have a lot of superficial similarities — same foot, same position, same club, same national team — but are actually pretty different players.
Pedri is better on the ball. He plays in a crouch for balance and has quick changes of direction, making him hard to dispossess, and when he receives he likes to turn inside to look for the incisive pass. He's comfortable playing between the lines but also happy to drop into defensive midfield or underneath the left back to help his team's positional rotations and see more of the ball. Stylistically, he's got more in common with the way his head coach, Xavi, used to play than he does with Gavi.
If Pedri is a corporate manager, organizing his team's operations for optimum efficiency, Gavi is a serial entrepreneur, bouncing from task to task with more energy than attention to detail. Like any La Masia product, he's skilled in possession, but he's really more of an off-ball player at heart, creating space with non-stop movement instead of carving it out with his technique.
That's not a bad way to be in Xavi's new-style 4-3-3, where midfielders are often asked to shoot the channels between the striker and wide wingers. Gavi's speciality is an underlapping seam run when his right-winger is on the ball, offering a forward pass up the sideline while dragging defenders out of the way so that the winger has the option to cut inside. Barcelona's attack often seems like it's all about wingers winning one-v-ones, but that subtle supporting run makes the wing play work.
You can spot the difference between the two central midfielders in a typical Barcelona passing network: Pedri's dot is deeper, bigger, and greener, signalling his importance to the passing game. High-value green passing links shoot out from Pedri to various attackers, but on Gavi's side they flow toward the midfielder. He's helping his team advance the ball as a receiver more than as a passer.
Pedri and Gavi's complementary skill sets have looked promising enough for Barcelona that Luis Enrique cut and pasted them into Spain's midfield at the World Cup. The things they have in common — touch, vision, pressing, attention to space and structure — may be more important than their differences, but it's the little asymmetries that make them pair so well together.
---
If La Liga's most exciting attacking prospects are Brazilian and its central midfielders Spanish, the future in defensive midfield is French.
Real Madrid signed a teenage Eduardo Camavinga as an understudy to Casemiro in 2021, then went back to Ligue 1 last year for the older and more expensive Aurelien Tchouameni when Casemiro's move to Manchester United left them suddenly needing a more polished starter.
So far it's turned out pretty well. Despite losing one of the world's best defensive midfielders — the anchor of five Champions League-winning sides — Madrid have hardly dropped off at all. Through 16 games, they're conceding just 1.05 expected goals per game, compared to 1.26 last season.
A lot of the credit goes to Tchouameni, who's extraordinary at defending space. Think Sergio Busquets' awareness with Frenkie de Jong's athleticism. He anticipates plays, seals off passing lanes, and switches so fluidly between different opponents that the best thing you can say for his defending is that sometimes you hardly notice it (Toni Kroos, of all people, commits more tackles).
He may not be as aggressive a ball-winner as Casemiro, but Tchouameni's understated style works. Looking at the difference between last season's Champions League group stage and this one — not a great data sample, but an illustrative one — you can see a decline in the possession value that opponents generate in Real Madrid's defensive midfield zones. Teams are struggling to move the ball through the centre of the pitch.
Some of that is also Camavinga, who's not a regular starter yet but brings plenty of intensity to his minutes in central and defensive midfield. Compared to Tchouameni, his defensive style is less about protecting space than closing down the ball — across their careers, Camavinga has attempted nearly three times as many tackles as he's won interceptions, while Tchouameni's ratio is about even.
As a defensive partnership, that might work. Camavinga can afford to take some chances on search-and-destroy missions when he's got Tchouameni's protective force field behind him. The tougher question is whether Madrid can click in possession with both players on the pitch.
With the ball, like against it, Tchouameni is tidy while Camavinga is a little chaotic. Neither is anywhere near Kroos's level as a deep-lying orchestrator or Modric's at unlocking defenses. That's an unfair comparison for any young players, sure, but it's a real question mark for Madrid's future.
Tchouameni is a tempo setter, rarely spending long on the ball. His spidery spatial awareness helps him find team-mates in maximum space to keep his team organized. He's skilled at quick combinations to get out of tight spaces and not scared to play a forward pass when given a lane, but he's nothing special at picking apart lines. His long passing is hit-or-miss, maybe because he's so eager to keep the ball moving that he tends to pull the trigger too early before drawing defenders to him.
Camavinga's big thing is his dribbling. He hasn't learned to read the game well enough to get on the ball frequently, but when he does, he skates up the pitch like a water strider, slipping the ball past defenders and zipping away on impossibly long legs. That's a valuable skill in open games but can sometimes disrupt his own team as much as the opponent.
So far Ancelotti hasn't really trusted the two of them to run the midfield together, at least not at the start of matches. He often says that Camavinga is better as a sub. "When he enters a broken game, he helps us a lot with his energy," Ancelotti said after a win over Espanyol. "It's hard to say if we had started with (Camavinga and other subs) whether we would have had the same control."
---
For years, Barcelona's wingers came inside and their full-backs overlapped. That's changed under Xavi, who usually likes his wingers high and wide for one-v-ones and his full-backs deeper to prevent counters.
The new style hasn't always been pretty or popular but it's working: across all 98 clubs in the top five leagues, only two have more points per game, two have a better goal difference per game, and none has a better non-penalty expected goal difference than Barcelona.
The question is where that leaves young players who grew up playing the old way. Alejandro Balde, who broke through last season at 17, is a dribbling left-back who likes to get up the wing. The 20-year-old Ansu Fati, who is fit this season after years of injuries, is a goalscoring inverted left-winger. How do those old types fit in Xavi's new system?
One answer might be "in some other position". Balde has spent a lot of this season out of position on the right side to make room for Jordi Alba's superior passing at left-back. He's not as effective on the ball as a wrong-footed full-back, but that makes it easier for him to sit deep and focus on winning defensive transitions. The new positional versatility has helped keep him on the field game in and game out, racking up valuable developmental minutes on both sides.
For Fati, the fix isn't so easy. He's not a bad dribbler — his 2.03 successful take-ons per 90 minutes this season are the highest on the team — but it's more the cut-and-shoot kind of dribbling than the isolated one-v-ones Xavi wants from his wingers. Fati has never been very effective on the right and Robert Lewandowski isn't about to give up the centre-forward spot. If he's going to earn a spot as a starter under Xavi, somebody will have to adjust.
A lot of coaches in this situation might simply rotate their full-back who plays like a dribbling winger up the pitch and their goal-scoring winger inside. Xavi isn't always opposed to that solution (scroll back up and look at Marcos Alonso and Raphinha's positions in that passing network against Inter) but for some reason, he's never started Balde and Fati together on the left side. In general, he seems to prefer Balde underneath Ousmane Dembele on the right and Alba underneath Fati.
Production-wise, it seems to be working pretty well. In limited minutes, Fati is averaging 0.93 non-penalty expected goals plus expected assists per 90 minutes, the second-highest on the team after Lewandowski. The problem is that his minutes stay limited. Fati's struggle to earn a starting spot with his club cost him his place with Spain at the World Cup and has led to reports of friction with Xavi.
While the Fati dilemma could drag on for a while, it seems like only a matter of time until Balde returns to his preferred left side. Whether he and Fati can form a productive partnership there could have major implications for Barcelona's future.
(Photos: Getty Images/Design: Sam Richardson)
---
The Athletic's Spanish football coverage is expanding:


Read the full article here