I can't wait to watch the World Cup quarter-final between France and England on Saturday, because I think they have the two young players who are at the top of the tournament: Kylian Mbappe and Jude Bellingham.
Bellingham has been the star of all of England's matches for me. Sometimes he's scoring, sometimes he's passing, and the timing of his box-to-box runs are perfect. He's in good shape and came into this tournament with the right confidence from Borussia Dortmund. You can tell he sees himself as a potential top player in the world, and wants to show it at the World Cup.
I hope the media are careful with him because we saw a similar situation a few years ago with Dele Alli, who struggled at times with being presented as a leader for club and country. It's important for everyone to be protective of Bellingham for his development, because it's clear he has a bright, bright future with England.
His mentality — his focus, his determination to win — at 19 is not normal. In my career, I mostly saw it in South American players, with Javier Mascherano (Argentina) being a good example, but I've also seen it in Gavi of Spain at this tournament. More young English players need what Bellingham has.
The image I loved most from the game against Senegal was him waiting to celebrate with Jordan Henderson after his pass for the first goal. It was brilliant.
Bellingham's game intelligence and passing are also unbelievable. You could see it clearly in the way he created England's second goal against Senegal. He shows his desire to get to the ball first, then shows his strength when another defender tries to stop him in a bad way while he's running at speed.
When you see the development of the counter-attack, Bellingham uses Harry Kane as protection to drive the ball up the pitch. At first it isn't clear, but as the action flows forward, he starts to see it in front of him.
When you are passing in this situation, you're looking all the time to see where the overload is.
Bellingham is such an intelligent player that he knows Phil Foden is running to his left, and Kane is running from left to right. You can see two Senegal defenders closing in from his right, and in that moment the clever players do what he does: he turns his body and looks to play the ball to the place where his team is dominant.
Maybe 50 per cent of players would play the simple pass to Kane, but the pass to Foden is the one that is going to properly open the game. Bellingham tries to get to his left foot, because he knows the overload will be there. Kane changes his run because of Foden, and he allows Bellingham to have two runs: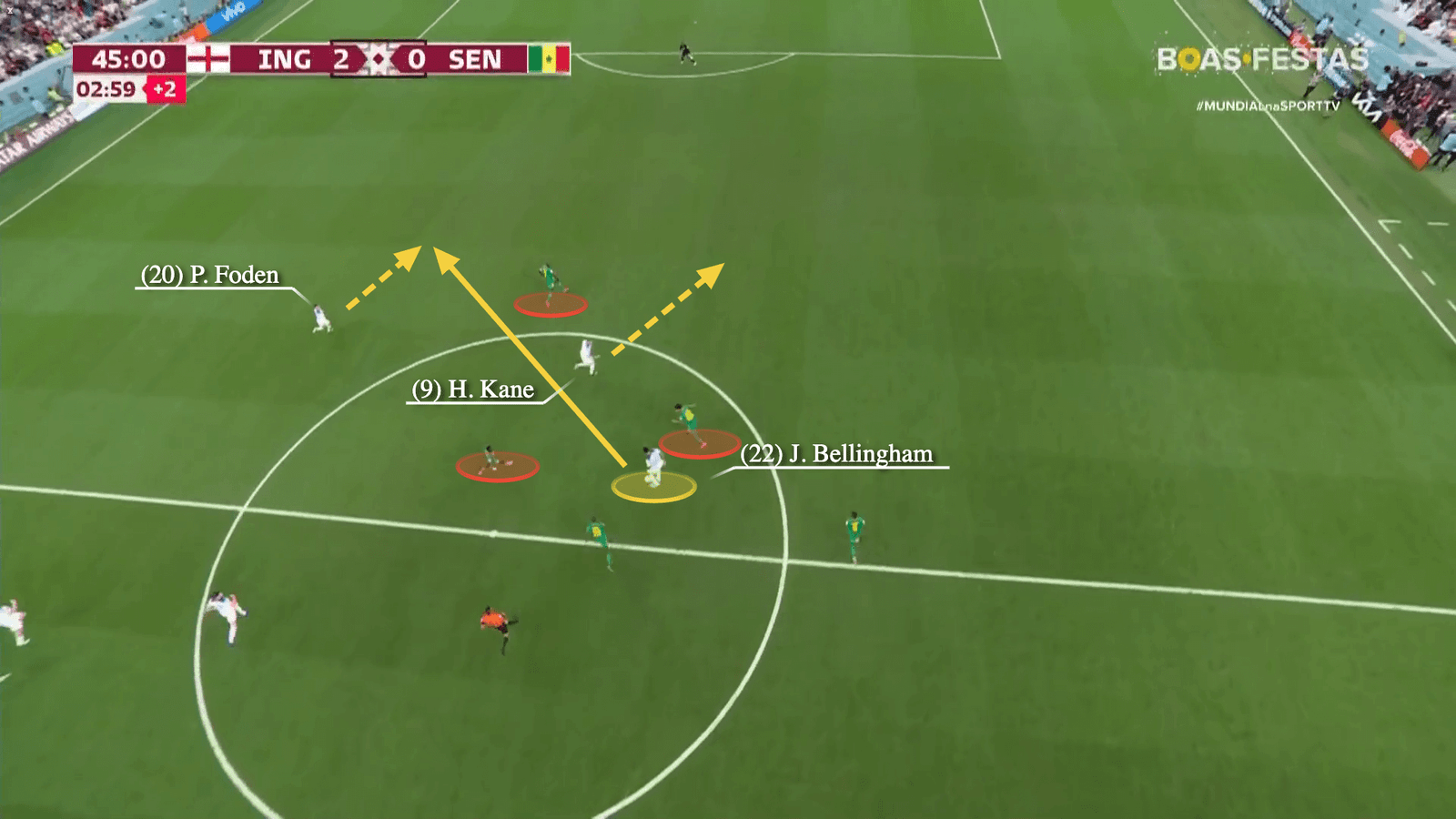 If Bellingham stays on his right foot, the last defender can try to anticipate a pass to Kane. But by coming onto his left, the defender can't ignore Foden. That is undefendable. I played centre-back for Barcelona and we were always on the front foot, but when we gave away counter-attacks, a midfielder who could pass with both feet was more difficult to control than a midfielder who could pass with one foot.
You have to give credit to Bellingham and the movement around him. Foden doesn't come inside and Kane tries to divert the attention of the defender. He uses his left foot to show to Foden that he's going to get the ball, and Kane knows he can continue his run because he isn't level with the last defender:
Foden with one touch sees the space and gives Kane the chance to control and shoot, rather than pass in front of him and give Edouard Mendy in goal a chance to cut it out.
I could watch that action again and again, because it's an example of a perfect counter-attack.
Bellingham isn't just dangerous with the ball at his feet. He understands that running off the ball is more important than running with it. When you have the ball, everyone focuses on you, but running in behind, unselfish running, can divert defenders and create space for a team-mate in the right position.
So many people never understood the Barcelona team I played in. They were always talking about tiki-taka, but it wasn't just tiki-taka. It was about the movement behind. The movement was impressive, the timing was right, and there was no selfishness. Every run opened a gap — that's how football is.
Bellingham's goal against Iran showed his unselfish running to create space.
Early in the move, he makes a run that is very dangerous. You see the space — Iran's defence has stopped and the run is brilliant. If the ball is played through, he isn't offside.
But he doesn't stop there. He comes back in. Harry Maguire can pass straight through to Mason Mount and England have three players against two Iran defenders:
The ball goes to the left side and it's a lack of communication in the Iran defence, but Bellingham gets himself into the right position at the right moment. Even if the cross is lower, the defender is in trouble: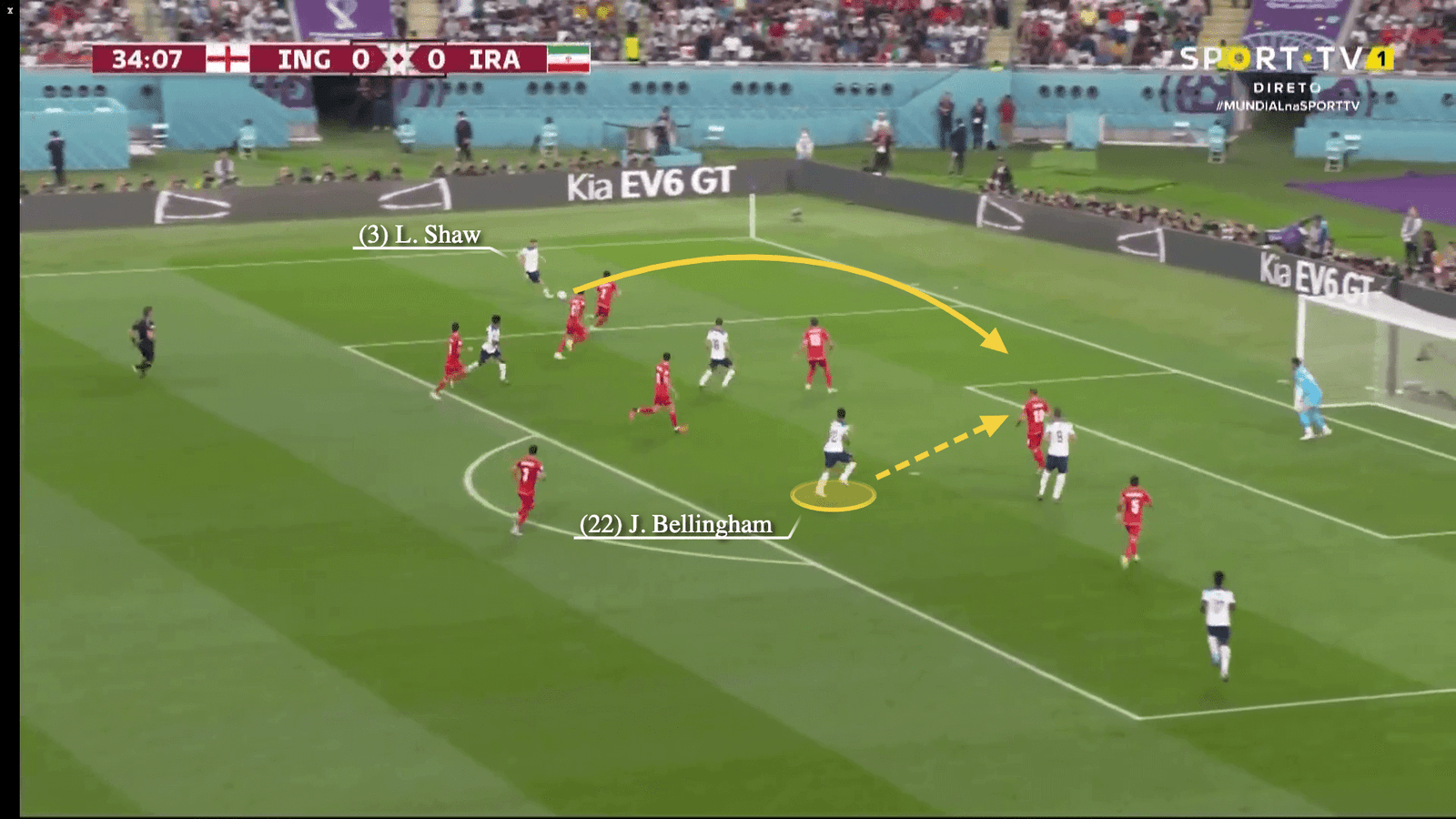 The goal reminds me of Gerrard, Lampard, Scholes; maybe more Scholes — big players who smell a chance, see the gap in a defence and just go into it. These types of players force opponents to not just worry about the forwards. They have to worry about Bellingham too, because his running from the second line is brilliant.
In the past we saw England with midfielders like Lampard or Gerrard who could shoot from long range. Now we see players like Bellingham with different characteristics physically and in terms of technical ability, close to big players from other top countries. His vision is clear and he's smart. It's not easy to have this vision at the speed of the game.
When I see the runs he makes to allow his team-mates to open the game, or when he has the ball, he doesn't look 19. He looks like a player who has been playing at a high level for a long period. Full credit to Birmingham and to Dortmund for his development — Dortmund have been developing players brilliantly well.
France will be a big test for England. They are a top, top team, the 2018 World Cup winners, and they are very well organised. It's so difficult to break them open in their 4-4-2. Individually they have quality and collectively they are very strong. They have been playing with each other for six, seven years and they have that consistency.
Mbappe is in red-hot form but so is Bellingham. That's the head-to-head, because those are the two players who can open the game. His movement will be vital, and England will need their other special talents, like Foden and Bukayo Saka, to turn up and the more experienced players to guide them.
This game is going to determine if they can believe in winning the World Cup. I want Bellingham to go far in this competition because I've been really impressed by him. He's going to be one of the best midfielders in the world and he's showing his talent already.
We have more to see from him, I'm 100 per cent sure of that.
(Main graphic — photos: Getty Images/design: Eamonn Dalton)


Read the full article here