It's been an eventful couple of days in the World Cup, to the extent that this isn't even the most notable example so far of an Asian side turning a 1-0 half-time deficit against a strong favourite into a famous 2-1 victory.
But in a purely tactical sense, Japan's win over Germany was the most fascinating contest of the World Cup so far, a classic game of two halves. Germany ran riot in the opening 45 minutes, prompting Japan to dramatically change their shape at the interval before launching their astonishing comeback. And for anyone sceptical about the significance of formations and tactics, this was a perfect counter-point; a clever tweak from a manager turning a probable defeat into the most memorable victory in Japan's World Cup history.
From the opening five minutes of the game, the tactical battle was clear. Germany pushed left-back David Raum forward on the outside of Jamal Musiala, who tucked into the inside-left channel, to form a front five. This very simple tactic dominated the entire first half.
Initially, it looked rather perilous. Germany took a while to settle in midfield, conceding possession cheaply on multiple occasions, and Japan broke into the space vacated by Raum, often to great effect.
But once Ilkay Gundogan and Joshua Kimmich started to dominate the midfield, Raum became the biggest attacking threat. He was continually unmarked for switches of play, when he desperately screamed for the ball from the Germany centre-back Antonio Rudiger…
… and for deep crosses and simple passes from midfield — to the extent it brought back memories of Germany's 4-0 thrashing of Portugal at Euro 2020.
On that occasion, it had been Robin Gosens arriving at the far post, which continually overloaded Portugal. Gosens was a finisher rather than a crosser and was a wing-back rather than a full-back.
But, given Raum's advanced positioning and the way Germany shifted into a back three with Sule moving inside from right-back, it was essentially the same system when Germany had the ball.
Raum might have given Germany the lead here, when Gundogan should have passed…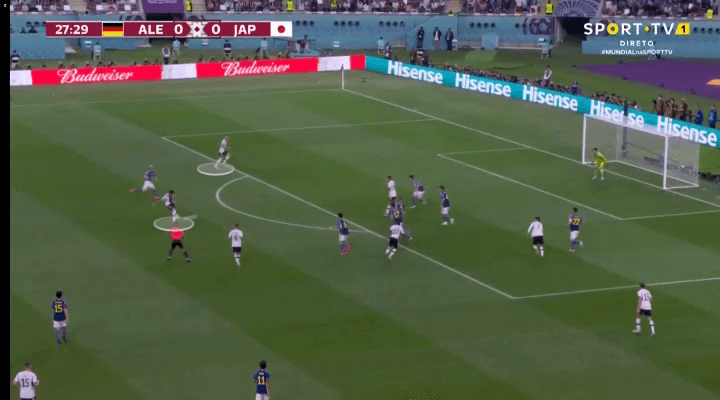 … but Germany eventually went ahead when Raum popped up so ridiculously unmarked that the only person able to confront him was the Japan goalkeeper Shuichi Gonda.
Talk about Germany dragging the opposition out of shape. Gonda brought down Raum and Gundogan scored the penalty.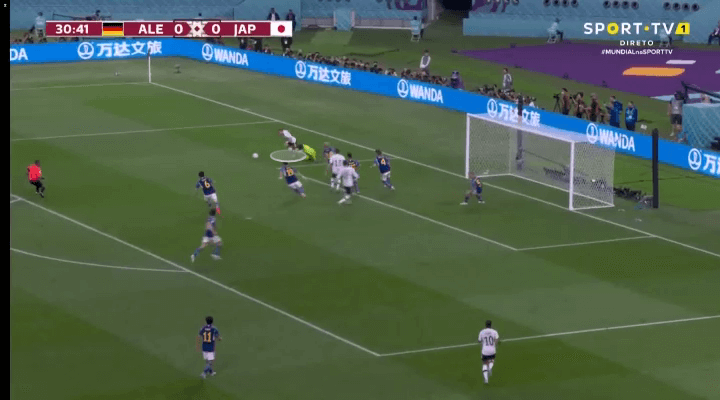 The Japan coach Moriyasu knew he needed to change things at half-time to get back into the game. But introducing a defender for a winger probably wasn't what the Japan supporters — who massively outnumbered Germany fans at the Khalifa International Stadium — had in mind. When you need a goal, it seems, on paper, a negative switch.
But it made perfect sense. Japan moved to a back five…
… in 5-4-1 — or, perhaps more strictly, 5-2-2-1, because Junya Ito and Daichi Kamada remained in central positions, ready to counter-attack — at one point, three against three.
But primarily it stabilised Japan's defence, with Maya Yoshida moving inside to become the spare man, sweeping up even more effectively than Japan's supporters would later do at full-time.
In possession, Japan built up well with a back three — which meant they ended up giving Germany a taste of their own medicine further forward.
Now, when they attacked, they pushed their wing-backs forward aggressively, outnumbering Germany's defence five-against-four. Suddenly, das boot was on the other foot.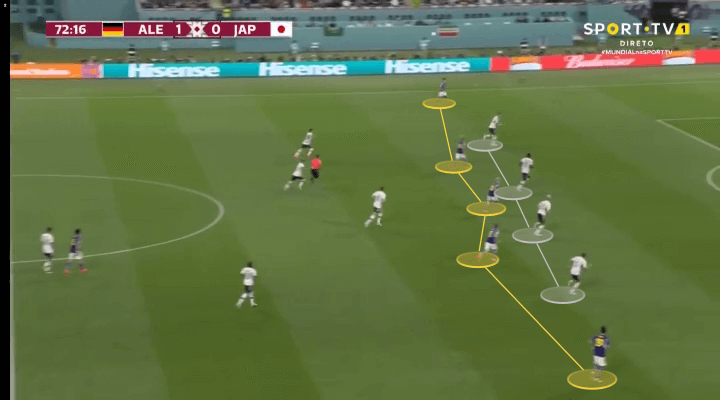 They weren't afraid to hit long balls into attack. This one, from Yoshida, found the onrushing Hiroki Sakai in a dangerous position down the right.
The problem, though, was that Japan's wing-backs weren't exactly the most creative; they were the solid but functional Sakai and Yuto Nagatomo — a fine defender but hardly dynamic.
That called for further use of the bench. A mere two more substitutes might not have been enough for Japan to launch their incredible comeback. A further four more, though, helped them win the game.
So Moriyasu ended up with Ito, an attack-minded winger, as his right-wing-back. He introduced Kaoru Mitoma, a left-sided forward, as his left-wing-back. He brought on fresh legs upfront in Asano, then finally introduced Takumi Minamino as another playmaker alongside Kamada. In short, Japan ended up with two playmakers behind three forwards — and they got those five men into the box in the build-up to their equaliser here.
It wasn't all plain sailing — Gonda was forced to make a couple of desperate saves. But Japan offered a serious attacking threat, both with the speed of their forwards on the break and after longer build-up play, with their five forwards stretched across the pitch. Sometimes international football seems remarkably simple tactically, essentially a battle of who can create a system to work a five-against-four.
The winner was even simpler — a long free-kick downfield, which allowed substitute Asano to hold off Nico Schlotterbeck and fire home.
It was a simple goal to settle a simple tactical battle. But while Group E was arguably the simplest on paper — Spain and Germany to go through, Japan and Costa Rica to go out — things now appear much more complex.


Read the full article here